India Vs New Zealand, Cricket World Cup 2023: The epic clash between India and New Zealand in the highly anticipated Cricket World Cup 2023 on October 22. This is a match that cricket enthusiasts have been eagerly waiting for, as both teams have exhibited exceptional performance throughout the tournament. The encounter promises to be a thrilling battle of skills, strategy, and spirit, with each team determined to secure a spot in the coveted semi-finals.
India, known for its aggressive and dynamic style of play, will be looking to unleash their formidable batting lineup, led by star players like Virat Kohli and Rohit Sharma. On the other hand, New Zealand, with their strong bowling attack and steady batting lineup, will be aiming to outsmart their opponents and secure a victory.
With the tournament reaching its climax, the stakes have never been higher. Expect an electrifying atmosphere as these cricketing powerhouses go head-to-head in their quest for World Cup glory. As the two teams battle it out on the pitch, fans around the world will be glued to their screens, eagerly awaiting every boundary, wicket, and moment of brilliance.
Overview Of The Teams – India And New Zealand:
India, led by the charismatic Rohith Sharma, is one of the most formidable teams in international cricket. Known for their smart batting style and strong bowling attack, India has consistently performed well in major tournaments. With players like Virat Kohli, Shubman Gill, and Suryakumar Yadav in their lineup, India boasts a strong batting order that can decimate any bowling attack.
On the other hand, New Zealand, captained by Tom Latham, is a team known for their resilience and team spirit. Despite being a relatively smaller cricketing nation, New Zealand has consistently punched above their weight. With players like Devon Conway, Trent Boult, and Will Young in their ranks, New Zealand possesses a balanced team that can pose a challenge to any opposition.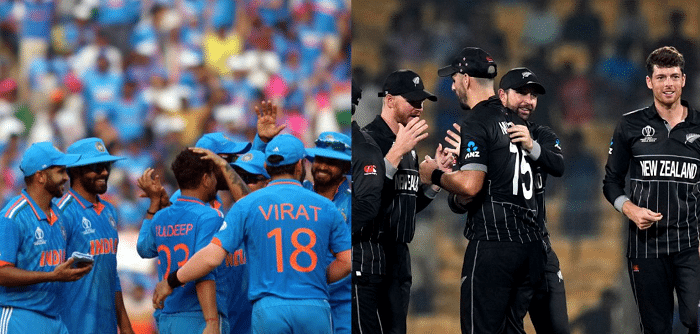 Key Players To Watch Out For In The Match:
When it comes to a high-stakes match like India vs New Zealand, there are always key players who can turn the tide in favor of their respective teams. For India, all eyes will be on Virat Kohli. Known for his aggressive batting style and ability to chase down any target, Kohli has been the backbone of India's batting lineup for years. Alongside Kohli, Rohit Sharma, known for his elegant strokeplay and ability to score big centuries, will be a key player to watch out for.
For New Zealand, their captain, Tom Latham and Kane Williamson, will play a crucial role in anchoring the innings and providing stability to the batting order. With his technical brilliance and calm temperament, Williamson has the ability to frustrate the opposition bowlers and score crucial runs. Additionally, the bowling duo of Trent Boult and Tim Southee will be instrumental in restricting the Indian batsmen and taking early wickets.
Past Encounters And Head-To-Head Record:
India and New Zealand have faced each other in several memorable matches over the years. When it comes to the head-to-head record, India has a slight edge over New Zealand. In ODIs, out of the 109 matches played between the two teams, India has emerged victorious 55 times, while New Zealand has won 48 matches. The remaining 6 matches ended in a tie or no result.
However, it is important to note that past encounters do not guarantee future results. Both teams have evolved and strengthened their squads in recent years, making this upcoming match a fresh challenge for both sides.
Venue And Pitch Conditions For The Match:
The India vs New Zealand match will be held HPCA Stadium, Dharamsala, India. The Cricket World Cup 2023 Matches will be held in multiple states in India. The exact location for this encounter is in the state of Himachal Pradesh. The pitch conditions are expected to play a crucial role in determining the outcome of the match.
If the pitch offers pace and bounce, it could favor the Indian batsmen, who are known for their aggressive strokeplay. On the other hand, if the pitch is on the slower side, it could benefit the bowlers, who excel in swinging and seaming conditions. The toss will also play a crucial role, as batting first or second could have a significant impact on the game.
Predictions And Expectations For The India Vs New Zealand Match:
Predicting the outcome of a cricket match is always a challenging task, especially when it involves two top-quality teams like India and New Zealand. Both teams have displayed exceptional skills and form throughout the tournament, making this clash a highly unpredictable one.
However, one can expect a closely contested match with both teams giving their all to secure a victory. The Indian batting lineup, with its explosive power-hitting ability, will look to dominate the New Zealand bowlers. On the other hand, New Zealand's disciplined bowling attack will aim to restrict the Indian batsmen and capitalize on any opportunities.
Ultimately, the team that performs better on the day and handles the pressure situations well will emerge victorious. With so much at stake, this match has all the ingredients to be an absolute thriller.
How To Watch The Match Live?
Cricket fans from around the world will be eagerly waiting to watch the India vs New Zealand match live. There are several ways to catch all the action, depending on your location and access to broadcasting channels. In India, the match will be telecasted live on major sports channels like Star Sports.
For international viewers, various streaming platforms and websites provide live streaming of cricket matches. The "Star Sports" television network is providing the live of all the World Cup 2023 channels. Services like "Hot star" offer live-streaming options for cricket enthusiasts across the globe. Check out the official websites of these platforms to find out how to watch the match live in your region.
The Rivalry Between India And New Zealand In Cricket:
India and New Zealand have a long-standing rivalry in the world of cricket. Despite being from different continents, these two teams have faced each other numerous times in various formats of the game. The rivalry between these cricketing powerhouses can be traced back to their first encounter in 1975 during the World Cup. Since then, India and New Zealand have had several memorable battles on the cricket field.
Both teams have had their fair share of victories and defeats against each other, making this rivalry even more exciting. The matches between India and New Zealand will always provide cricket fans with some nail-biting moments throughout the years.
Conclusion And Final Thoughts On The Match:
The India vs New Zealand match in the Cricket World Cup 2023 promises to be a clash of titans. Both teams will play hard to secure a victory and advance to the semi-finals.
As cricket enthusiasts, we can expect a thrilling battle between the Indian batting powerhouse and the New Zealand bowling attack. The match will undoubtedly provide moments of brilliance, nail-biting suspense, and unforgettable cricketing memories.