If you want to know the IFSC Code of your Paytm Payments Bank, then you are in the right place. The full form of IFSC is the Indian Financial System Code. The Reserve Bank of India assigns an 11-digit unique alpha-numeric code to every branch of every bank in India, which is necessary for electronic mode payments and is known as IFSC. A single IFSC can describe all the bank details like the bank name and branch name, bank state, district, and city/town. The Paytm mobile application was founded in 2010 with an investment of $2 million US dollars. Vijay Shekhar Sharma founded Paytm. In 2017, Paytm Payments Bank was launched. You can visit their official websites at https://www.paytmbank.com and https://paytm.com.
How To Find Paytm IFSC Code?
Open the official website

https://paytm.com

.

Then it will display the home page of the website of Paytm.

Scroll down to the bottom of the page.

You have to find and click "Financial Tools & Calculator."

Now scroll down the webpage until you find the "IFSC Finder" option.

Then it will display the options to select:
Select Bank

Select State

Select City

Select Branch
Firstly, Select the bank name you want to know the IFSC code.

Then select the State in which your bank branch is situated.

Afterward, you must select the city where your bank branch is located.

Then finally, select the branch name of the bank.

The website provides options for every detail asked below them.

After selecting all the details, it will automatically display the IFSC code of the Bank Branch along with other information like
Bank name

Branch name

District 

State
How To Login Into Paytm Payments Bank For IFSC Code?
Open the official website of Paytm Payments Bank with the URL-

https://www.paytmbank.com

.

Then you can see the home page of the website on your browser.

Then click on the "Netbanking Login" option.

There it will display the login section of the Netbanking of Paytm Payments Bank.

It will ask you to enter your "Registered Mobile Number." Enter it and click on "Send OTP."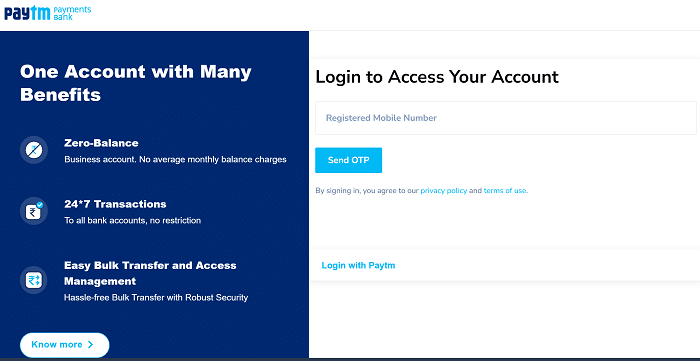 Then you will receive a Time Password(OTP) on your mobile number, which you registered with the bank during the opening of the account.

The bank will take you to your Paytm Payments Bank account and grant you access to the financial services provided by the bank.
Login With Paytm:
You can also log in with your Paytm login credentials. For this, you must click "Log in with Paytm."

Then it will ask you to enter your "Registred Mobile Number or Paytm Email Id."

Then you have to enter the "Paytm Password."

Afterward, you must select the check box to confirm that "I'm not a Robot."

Now click on Sign in securely. Then you will be taken to your net banking account of Paytm Payments Bank.
PayTM QR Code Login:
Another way to log in is OR Login through QR Code. You must click the "Click here" option below the QR code symbol in the login section.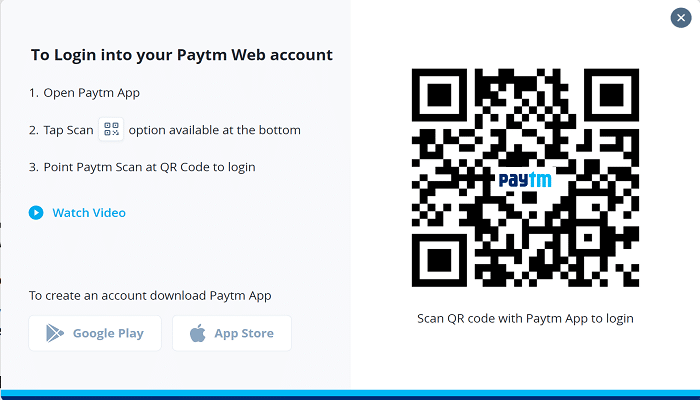 There it will display some instructions which explain open your Paytm application on your mobile phone.

You have to start by opening the Paytm mobile application on your mobile phone.

Now select the Scan option available at the bottom of the home page of the mobile application.

Then scan the QR code given in the login section on the website. Then it will automatically open your profile of Paytm Payments Bank net banking. Then you will be allowed to access the services provided on the website.
Services Provided By Paytm Payments Bank:
Savings Account:

People can open a savings bank account with the Paytm Payments bank and perform all the activities that can be performed with other banks.

Paytm Wallet:

Paytm provides an E-Wallet service with which you can scan and pay anywhere in the country at any time and any amount of money up to a specific limit that differs from bank to bank. You can also receive money on the Paytm wallet and also make recharges, bill payments, money transfers, etc.,

Debit Cards:

Like all the other banks, Paytm Payments Bank also Provides ATM cards that can be used for different services like depositing money, shopping, bill payments, cash withdrawal from ATMs, etc., which helps the payments happen very quickly. 

Paytm ka ATM:

this is a special feature Paytm Payments Bank provides its consumers. In this service, Paytm bank appoints some shopkeepers who can be called authorized agents. When approached, these agents can help you use Paytm services. If you do not find an ATM nearer to you, then you can approach such agents to withdraw money and get a Fastag, recharge a Fastag, etc.,

FASTag:

this is the tag provided for all the four-wheeler vehicles for making payments at toll gates. Paytm is one of the Providers of Fastags, and it also helps Fastag holders to recharge their Fastags using the Paytm mobile application.
Features Of Paytm Payments Bank Savings Account:
No Account Fees and Charges for transactions done

Risk-free deposits can be made with your account

Earn Interests Every Month deposited into your account

Highly Security is provided for any transactions

Realtime Updated Pass Book

Visa Debit Card is provided for every account holder
Paytm Payments Bank Debit and ATM Card Features:
It is accepted in any country in the world

Wide Acceptance at any shopping place or any payments

Contactless Transaction can be made without swiping the card

Withdraw Cash From Any ATM in and around your location

Many Cashback offers and many discount Offers are provided

It can be Trusted, and Security is provided for the transactions very well
Features Of Paytm Payments Bank Business Account:
Zero Balance Business Account

No Average Monthly Balance Charges

Free Transactions to All Bank Accounts

Easy Bulk Transfer Anytime, Anywhere

Reconcile Payments Easily

Easy Statement Download Process
PayTM IFSC Code – https://www.paytmbank.com/:
The primary aim of Paytm Payments Bank is to bring financial services to the unbanked and underbanked sections of the country. It is good that the Paytm Payments Bank came into existence as more and more people can now access financial services without using other means. The Paytm Payments Bank account is a direct bank account of Paytm Payments Bank, and it is very easy to open it with any of the Paytm accounts. The account is free and does not charge any fees for its transactions. Once you have opened an account with Paytm Payments Bank, then you can easily perform transactions from your account. The transactions that you do from the account are completely risk-free.