South Africa Vs Netherlands, Cricket World Cup 2023, October 17th: Get ready for an exhilarating clash as South Africa takes on the Netherlands in the Cricket World Cup 2023 on October 17th. It's a battle between two cricketing powerhouses, each boasting a talented lineup of players. This highly anticipated match promises to be a nail-biting affair that cricket fans won't want to miss.
Overview Of The South Africa And Netherlands Cricket Teams:
South Africa, known for their aggressive and fearless style of play, will be aiming to dominate the game from the start. Led by their skilled captain, they have a strong batting and bowling lineup that can turn the tide in their favor at any moment. The team comprises experienced players like Quinton de Kock, Temba Bavuma, and Kagiso Rabada, who have consistently performed well in international cricket. With their solid batting lineup and lethal pace attack, South Africa will be a force to be reckoned with in this match.
On the other hand, the Netherlands, though considered underdogs, have shown immense potential in recent matches. With their fighting spirit and never-give-up attitude, they will certainly give South Africa a run for their money. The team is led by their dynamic captain, Scott Edwards, who has been instrumental in guiding the Netherlands to some memorable victories. The Netherlands team includes talented players like Bas De Leede and Max O'Dowd, who have the ability to turn the game in their favor with their explosive batting and wicket-taking abilities. Despite being a relatively smaller cricketing nation, the Netherlands will be aiming to pull off an upset against South Africa.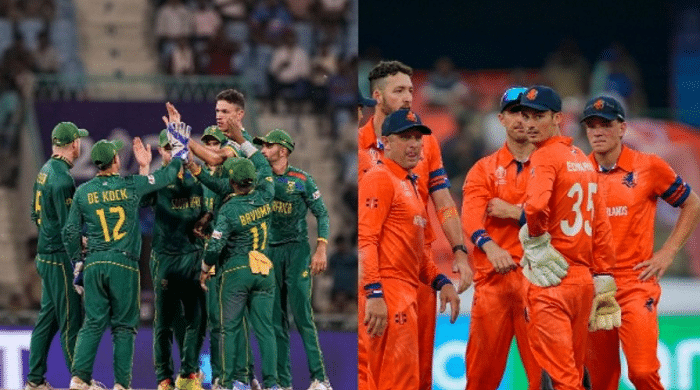 Team Members Of Both Teams:
South Africa: Temba Bavuma, Quinton de Kock, Aiden Markram, Rassie van der Dussen, Kagiso Rabada, Marco Jansen, Keshav Maharaj, Tabraiz Shamsi, Lungi Ngidi, David Miller, Heinrich Klaasen, Andile Phehlukwayo, Gerald Coetzee, Reeza Hendricks, and Lizaad Williams.
Netherlands: Scott Edward, Vikramajit Singh, Bas de Leede, Aryan Dutt, Teja Nidamanuru, Logan van Beek, Roelof van der Merwe, Colin Ackermann, Paul van Meekeren, Max O'Dowd, Shariz Ahmad, Wesley Barresi, Saquib Zulfiqar, Ryan Klein, and Sybrand Engelbrecht.
Head-to-head History Of South Africa And The Netherlands In Cricket:
When it comes to head-to-head encounters, South Africa has a clear advantage over the Netherlands. The two teams have faced each other several times in international cricket, with South Africa emerging as the dominant side. However, it's important to note that cricket is a game of uncertainties, and the Netherlands has shown in the past that it can surprise even the strongest of opponents. In their previous encounters, South Africa has displayed their dominance, but the Netherlands has managed to put up a fight and produce moments of brilliance. With both teams hungry for victory, this match will be a test of skill, strategy, and mental fortitude.
Key Players To Watch In The Match:
Both South Africa and the Netherlands possess players with exceptional skills and expertise, making this a matchup worth watching. For South Africa, all eyes will be on Quinton de Kock, the explosive wicket-keeper batsman known for his aggressive stroke play. His ability to take the game away from the opposition in a matter of overs makes him a key player for South Africa. Faf du Plessis, the experienced middle-order batsman, will also play a crucial role in stabilizing the innings and providing a solid platform for the team. In the bowling department, Kagiso Rabada, known for his raw pace and ability to take wickets, will be a player to watch out for.
For the Netherlands, Roelof Van Der Merwe, the veteran all-rounder, will be a vital cog in their lineup. His ability to contribute with both bat and ball makes him a crucial player for the team. Max O'Dowd, the explosive opener, will be expected to provide a solid start to the innings and set the tone for the rest of the team. In the bowling department, Paul Van Meekeren, known for his swing and accuracy, will be a key player for the Netherlands.
Venue And Pitch Conditions For The Match:
The match between South Africa and the Netherlands will be held at HPCA Stadium, Dharamsala, India. It is a stadium where both teams will have an equal opportunity to adapt to the conditions. The pitch is expected to be batting-friendly, with some assistance for the bowlers as the match progresses. The weather conditions are expected to be favorable for cricket, with clear skies and a moderate temperature. The venue offers a picturesque setting, providing the perfect backdrop for an exciting cricket match.
How To Watch The South Africa Vs Netherlands Match Live?
Cricket fans can catch all the action of the South Africa vs Netherlands match live on various platforms. The match will be broadcast on "Star Sports" television network channels around the world, allowing fans to watch it from the comfort of their homes. Additionally, online streaming platforms like "Hot Star" will provide live coverage of the match. It ensures that fans don't miss a single ball. So gather your friends and family, grab some snacks, and get ready to witness an exciting cricket match.
Previous Matches And Performance Of South Africa And Netherlands In The Tournament:
Both South Africa and the Netherlands have had mixed performances in the Cricket World Cup 2023. South Africa started the tournament on a high note, winning their opening matches convincingly. However, they faced a setback in their subsequent matches, struggling to find consistency. The Netherlands, on the other hand, had a slow start to the tournament but managed to bounce back with some impressive performances. They showcased their fighting spirit and determination, proving that they are a team to be taken seriously.
In their previous matches, South Africa has displayed their batting firepower, with their top-order batsmen consistently scoring runs. However, their middle order has struggled to capitalize on good starts, which has hindered their progress. The Netherlands, on the other hand, has shown resilience in their batting, with their lower order often contributing crucial runs. Their bowling attack has been impressive, taking wickets at regular intervals and putting pressure on the opposition.
Predictions And Expectations For The Match:
This match between South Africa and the Netherlands will be an excellent match. South Africa will be the favorites going into the match, given their superior track record and experienced lineup. However, the Netherlands has shown that they can compete with the best and will be looking to cause an upset. The key to victory for South Africa will be their top-order batsmen firing on all cylinders and their bowlers maintaining pressure throughout the innings. The Netherlands, on the other hand, will be relying on their fighting spirit and collective team effort to challenge South Africa.
Post-Match Analysis And Highlights:
Once the match between South Africa and the Netherlands concludes, cricket enthusiasts can look forward to post-match analysis and highlights. Expert commentators and analysts will provide insights into the match, discussing key moments and performances. Highlights of the match, including the best batting and bowling performances, will be available for fans to relive the excitement. Post-match interviews with players and coaches will provide a deeper understanding of the strategies and tactics employed by the teams.
Conclusion:
The clash between South Africa and the Netherlands in the Cricket World Cup 2023 promises to be a thrilling contest. Both teams have players with talent. They have the ability to turn the game in their favor. South Africa will be aiming to assert their dominance, while the Netherlands will be looking to create an upset. Cricket fans around the world are very eager for this match. They hope to witness a spectacle that will be in memory for many years. So mark your calendars and get ready for a cricket extravaganza on October 17th.