Tamil Nadu Diwali Holiday: Diwali, also known as the Festival of Lights, is one of the most significant festivals celebrated in India. It is a time of joy, festivities, and spending quality time with loved ones. In Tamil Nadu, the government has announced a holiday for all educational institutions and government offices to commemorate this auspicious occasion. This article will provide a comprehensive overview of the Tamil Nadu Diwali holiday, including the date of the holiday, its significance, and its impact on schools, colleges, and government offices.
Date Of Holiday – Tamil Nadu Diwali Holiday:
Diwali, the festival that marks the victory of light over darkness, falls on November 12, 2023, which is a Sunday. To ensure that people can celebrate Diwali with their families and loved ones in their native towns, the Tamil Nadu government has declared November 13, 2023, as a holiday. This decision allows individuals to comfortably return from their hometowns and resume work or classes on Tuesday, November 14, 2023.
Significance Of Diwali:
Diwali holds immense cultural and religious significance in India. The festival is celebrated to honor Lord Rama's return to Ayodhya after 14 years of exile and his victory over the demon king Ravana. It is believed that on this day, Lord Rama was welcomed with rows of illuminated clay lamps, symbolizing the triumph of good over evil and the dispelling of darkness with light. Today, Diwali is celebrated by lighting diyas (lamps), bursting fireworks, exchanging gifts, and indulging in delicious festive food.
Impact On Schools, Colleges, And Government Offices:
The Tamil Nadu government's decision to declare November 13, 2023, as a holiday for schools, colleges, and government offices aims to facilitate the smooth return of individuals after celebrating Diwali with their families. Thousands of government staff and students often travel to their native towns on Fridays and return on Sundays. By providing a holiday on Monday, individuals can avoid any rush or inconvenience while traveling back to their workplaces or educational institutions.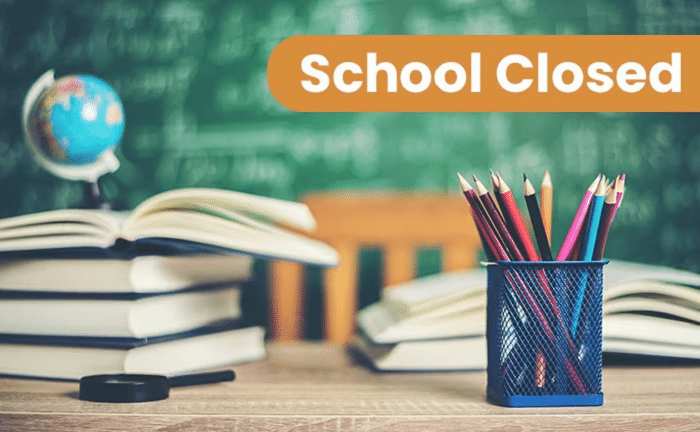 To compensate for the announced holiday, the Tamil Nadu government has also declared November 18, 2023, as a working day. This measure ensures that the overall working days are not affected and the academic calendar remains on track. It also allows students and employees to make up for any missed classes or work during the Diwali break.
Diwali Holidays In Other States:
While Tamil Nadu has announced a holiday on November 13, 2023, for Diwali, several other states in India have also declared holidays to celebrate this joyous festival. States like Andhra Pradesh, Telangana, Bihar, and others have declared three to four days off in honor of Diwali. The duration and dates of Diwali holidays may vary between different states due to local customs and traditions.
Let's take a look at the list of states that have declared holidays for Diwali:
Tamil Nadu:
On November 13, 2023, all schools, colleges, and educational institutions in Tamil Nadu will remain closed in observance of Diwali. As Diwali falls on a Sunday this year, the holiday has been announced to ensure the convenience of government employees and students. November 18, 2023, has been designated as a working day to compensate for the holiday.
Bihar:
In Bihar, government schools will remain closed from November 11 to November 21, 2023, to celebrate the festivals of Chhath and Diwali. District Project Officers (DPO) and District Education Officers (DEO) have received an order to adhere to the approved holiday schedule.
Telangana And Andhra Pradesh:
The governments of Telangana and Andhra Pradesh have declared November 13, 2023, as a state holiday. Educational institutions in both states will remain closed to commemorate Diwali. With Diwali falling on a Sunday, students will be able to celebrate the festival of lights across three days, including the weekends of November 11 and 12, 2023. 
Chhatrapati Sambhajinagar, Maharashtra:
The Chhatrapati Sambhajinagar Zilla Parishad's Education Department has planned a 19-day Diwali holiday from November 9 to November 27, 2023. Dr. Babasaheb Ambedkar Marathwada University (BAMU) has also announced vacations for the institutions under its purview from November 6 to November 27, 2023. Classes will resume after the holidays.
Impact On Education during Diwali:
Diwali holidays provide a much-needed break for students and teachers to relax and rejuvenate after a hectic academic schedule. It allows them to spend quality time with their families and engage in cultural festivities. Moreover, Diwali holidays offer an opportunity for students to explore their creativity through various arts and crafts activities, participate in community service, and learn about the significance of Diwali in different cultures.
During the Diwali break, schools and colleges may also organize cultural programs, competitions, and workshops to celebrate the festival. Such events promote cultural diversity and instill a sense of unity among students. Teachers can use this time to plan engaging activities and lessons that integrate the values and traditions associated with Diwali.
Safety Measures During Diwali:
While Diwali is a time of joy and celebration, it is important to prioritize safety and well-being. Fireworks are an integral part of Diwali celebrations, but it is essential to handle them responsibly. Government authorities and educational institutions should educate students and the general public about the safe and responsible use of fireworks. Additionally, awareness campaigns should be conducted to promote eco-friendly celebrations, urging people to opt for noiseless and pollution-free fireworks.
It is also crucial to take precautions to prevent accidents and injuries during Diwali. Emphasize safety guidelines, such as keeping a safe distance from fireworks, wearing protective clothing, and supervising children. Schools and colleges can play an active role in spreading awareness about these safety measures through workshops, seminars, and informative sessions. 
Conclusion – Tamil Nadu Diwali Holiday:
The Tamil Nadu Diwali holiday provides an opportunity for individuals to celebrate this joyous festival with their families and loved ones. The government's decision to announce a holiday for schools, colleges, and government offices on November 13, 2023, ensures a smooth return for people after the festivities. Additionally, the compensation for the holiday by working on November 18, 2023, helps maintain the academic calendar and work schedules.
To celebrate Diwali across various states in India, it is crucial to actively respect and acknowledge diverse customs and traditions. The Diwali break offers a chance for students and teachers to embrace the cultural significance of Diwali, engage in creative activities, and promote unity among different communities.
While celebrating Diwali, it is crucial to prioritize safety and adhere to responsible practices, especially when it comes to fireworks. By following safety guidelines and promoting eco-friendly celebrations, we can ensure a safe and enjoyable Diwali for everyone.
As the Tamil Nadu Diwali holiday approaches, let us embrace the spirit of this festival, spread joy and happiness, and cherish the moments spent with our loved ones. Wishing you all a happy and prosperous Diwali!