Virat Kohli Birthday Celebration: Virat Kohli, the renowned Indian cricketer, is set to celebrate his 35th birthday on November 5th. The occasion coincides with a highly anticipated Cricket World Cup 2023 match between India and South Africa at the iconic Eden Gardens stadium in Kolkata. The Cricket Association of Bengal (CAB) has left no stone unturned in planning a grand celebration to honor the legendary batsman's special day. This article dives into the exciting preparations and festivities lined up for Virat Kohli's birthday celebration.
A Spectacular Show At Eden Gardens:
The Cricket Association of Bengal (CAB) has meticulously planned a series of extravagant events to make Virat Kohli's birthday celebration a memorable one. The celebrations will kick off with a laser show at the Eden Gardens stadium, creating a mesmerizing visual spectacle for the fans. The CAB has also arranged for a breathtaking fireworks display during the mid-innings interval, adding an extra touch of excitement to the match. The entire crowd is expected to participate in the celebrations, showcasing their unwavering support and admiration for the Indian cricket superstar.
A Special Cake-Cutting Ceremony – Virat Kohli Birthday Celebration:
No birthday celebration is complete without a cake-cutting ceremony, and Virat Kohli's birthday is no exception. The CAB has ordered a specially designed cake that resonates with the essence of Virat Kohli's cricketing career. Details of the cake design are under wraps, expected to reflect Kohli's iconic persona and achievements. The cake will be presented to Virat Kohli before the match or during the mid-innings break, allowing him to savor the sweet moment amidst the electrifying atmosphere of the stadium.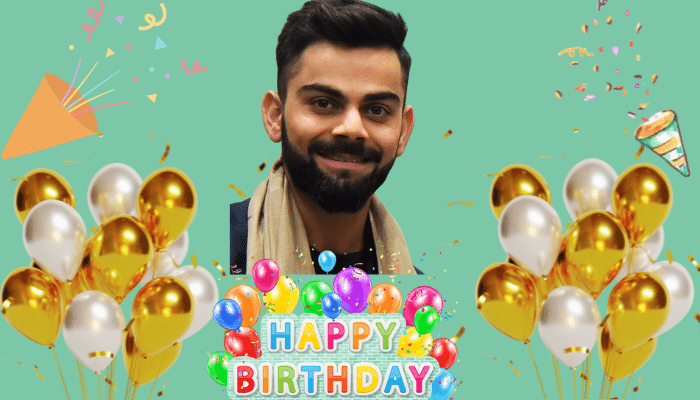 Masked In Kohli's Glory:
To add a unique touch to the birthday celebrations, the Cricket Association of Bengal (CAB) has arranged for the distribution of 70,000 face masks featuring Virat Kohli's image. Enthusiastic spectators will receive masks to wear Kohli's face, expressing unwavering support for the cricketing maestro. Kohli masks in the stands create a visual spectacle, showcasing fans' immense love and adoration for the Indian sensation.
Wishes Pouring In – Virat Kohli Birthday Celebration:
Virat Kohli's birthday captures widespread attention, with players and fans pouring heartfelt wishes for the legendary cricketer. Several prominent players, including Umesh Yadav, Robin Uthappa, and Cheteshwar Pujara, have taken to social media to extend their warm greetings and best wishes to Kohli on his special day. Fellow cricketers' and fans' outpouring of love and admiration testifies to Virat Kohli's impactful influence on the sport.
A Journey Of Greatness:
Virat Kohli's journey as a cricketer has been nothing short of extraordinary. Born on November 5, 1988, in Punjab, India, Kohli displayed a natural flair for cricket from a young age. He honed his skills at the West Delhi Cricket Academy and represented Delhi in various age-group tournaments. Kohli's talent and dedication were evident as he climbed the ranks, earning his place in the Indian Under-19 team and subsequently making his international debut in 2008.
A Captivating Career:
Since his debut, Virat Kohli has established himself as one of the leading batsmen in world cricket. Known for his aggressive style and unwavering determination, Kohli shattered records and achieved remarkable milestones in his career. As of now, he has played 111 Test matches, accumulating a staggering 8,676 runs at an impressive average of 49. In One Day Internationals (ODIs), Kohli has amassed 13,437 runs in 287 matches, boasting an incredible average of 58.
The First Centenary:
A significant milestone in Virat Kohli's career occurred in 2009 when he scored his first international century at Kolkata's Eden Gardens. During a match against Sri Lanka, this feat solidified Kohli's reputation as a rising star in Indian cricket. Kohli celebrating his birthday where he achieved an iconic milestone adds extra significance to the celebrations.
A Legendary Captain:
Virat Kohli's leadership skills have also been exemplary. He became the captain of the Indian cricket team in 2017, taking over the reins from the esteemed MS Dhoni. Under his captaincy, India has witnessed unprecedented success, especially in the Test format. Kohli's tactical brilliance, passion, and leading-by-example ability earned him the title of India's most successful Test captain. His astute decision-making and the ability to inspire his teammates have propelled the Indian team to new heights.
A Phenomenal Fanbase:
Virat Kohli's immense popularity extends beyond the cricket field. He enjoys an ardent fan following, not just in India but across the globe. At Eden Gardens, his birthday celebration will testify to the unwavering support and love from his fans. The sight of 70,000 spectators donning Kohli masks and cheering him on will undoubtedly create an electrifying atmosphere, making the birthday celebrations all the more special for the cricketing icon.
A Legacy In The Making:
As Virat Kohli turns 35 on November 5th, the Eden Gardens celebration will highlight his incredible contributions to Indian cricket. Kohli's dedication, discipline, and passion for the sport have left an indelible mark on the game. His relentless pursuit of excellence and his ability to rise to the occasion on crucial occasions have earned him the respect and admiration of fans and fellow cricketers alike. As he embarks on another year in his illustrious career, cricket enthusiasts eagerly await witnessing more extraordinary innings and performances.
Conclusion – Virat Kohli Birthday Celebration:
The Cricket Association of Bengal (CAB) has meticulously planned a grand celebration to mark Virat Kohli's 35th birthday at the Eden Gardens stadium during the Cricket World Cup 2023 match between India and South Africa. The celebrations will feature a laser show, fireworks, a special cake-cutting ceremony, and the distribution of 70,000 Kohli masks, making it nothing short of spectacular. As the cricketing maestro steps onto the field on his birthday, the electrifying atmosphere at Eden Gardens will be a testament to the immense love and adoration fans have for Virat Kohli. As the celebrations unfold, cricket enthusiasts eagerly await witnessing the magic that unfolds when the King of Indian cricket takes center stage. Happy Birthday, Virat Kohli!