Google I/O 2023: Google recently conducted a session on their developments and innovations, which were developed in association with Artificial Intelligence. These inventions aim to support users with tools that make Artificial Intelligence available in the applications used in our daily lives. These tools help us make perfect analyses, give wonderful results, and make our work and activities easy and safe.
BARD – The AI: Google I/O 2023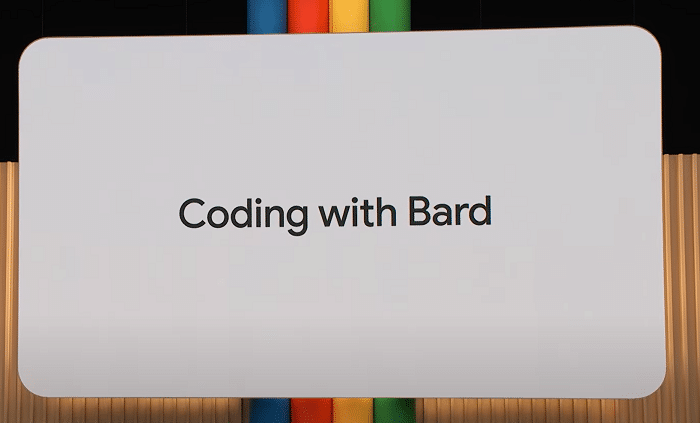 The developers invented BARD, an AI tool that assists, empowers, and collaborates to turn your creative ideas into reality and boost productivity.

It was introduced on the 23rd of March, 2023.

The Bard chatbot is currently available in three languages. They are English, Japanese, and Korean. Further developments are going on to introduce it in 40 other Languages also.

Artificial Intelligence has a conversational tool that allows code generation, debugging, and explaining the logic behind a code.

BARD can understand more than 20 computer languages currently used in the software world. Some such languages are C++, Go, Javascript, Python, and Kotnil. It can also handle the functions of google sheets.

You can use the Bard Chatbot collaboratively with some of Google's existing tools, such as Google Search, Google Lens, Google Maps, Google Sheets, or Docs.

Bard can also be collaboratively used with many other applications or websites.

Bard is now officially available in 180 countries and territories.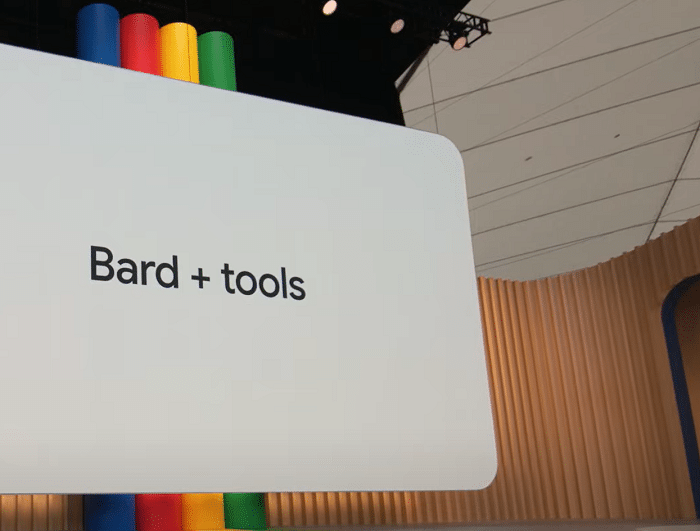 Google Workspace: 
Google Workspace was released in February in the year 2006.

It is mainly developed to provide a collaboration medium for a team and its members.

It consists of Gmail, Google Calendar, Google Drive, Google Docs Editor, and Google Meet.

Among them, Gmail, Google Calendar, and Google Meet are combined and used for communication with teammates, finding the important dates of pre-fixed events, conducting meetings online, chatting with the team members, etc.,

People use Google Drive and Google Docs Editor to save work-related files, edit documents required online, etc.
Google Workspace With Bard AI:
Now Google is going to introduce some new changes to the Google Workspace. Google combines AI (Artificial Intelligence) with Google Workspace to provide a more intelligent collaborative medium for a real-time workspace.

Google Workspace can serve as a Coach, a thought Partner, a source of inspiration, and a productivity booster in any application available on Google Workspace with its new features.

A New "Help me write" feature has been added to Gmail and Docs. This will help you to build a mail or a paragraph of text on the given context using the newly added Artificial intelligence features to Google Workspace.

Google Sheets introduces a new Artificial Intelligence feature called "Help Me Organize". If you ask it to suggest a model table for any context, it immediately shows a result of a table with all the possible column headings and what to add to each column.

Another new feature of Artificial Intelligence is "Help Me Visualise", added to google slides. With these features, you can ask for suggestions of pictures by specifying the context, and you can add an image from the suggestions. All this can be done without downloading or leaving the Google Slides Application. It suggests "Create Speaker notes for each slide", which helps you during the immediate presentation. 

Google will launch these features later this year as "Duet AI for Workspace" for businesses and consumer workspace users.

This can even give you prompts automatically with the help of Artificial Intelligence about the document you are working on. When you click on a prompt, it will suggest the data to continue your document.

It can also suggest the images for your document related to the context of your document with the help of Artificial intelligence.
Generative AI In Google Search:
The current Google Search engine provides meaning, information, and links to websites related to the keyword given in the search space. Sometimes the Google search engine may not respond to the search users' longer questions. So to solve this problem, google is bringing the search engine with a combination of generative AI.

This allows the search users to give a search keyword or question of any length, and the Google search will understand your context and need with the help of generative AI. 

It provides information and website links related to that context, and then it will also suggest to the users the questions that the search engine can ask.
Google Cloud Platform:
Google Cloud was launched on April 7th in the year 2008.

It provides cloud services like Computing, Data storage, Data analytics, and Machine Learning for the users of Google Search, Gmail, Google Drive, and YouTube.

Google Cloud also provides serverless Computing Environments and virtual infrastructures for businesses and virtual platforms for developers.

Google added some new features to the Google Cloud Application.

They are Vertex AI, from which we can access the foundation models for Chat, text, and image. It helps us to retrieve fresh and real information from the company's databases as it provides enterprise search.

Vertex introduced three new models: Imagen for editing with text suggestions, Codey for developing efficient code, and Chirp for speech-to-text conversion for over 300 languages.

It is introducing another feature: reinforcement learning from human feedback using Artificial intelligence. 

Another important feature is Duet AI for Google Cloud. In this feature, the duet uses generative AI the support or assist developers.

The best feature is that it will auto-complete the code if necessary, and code review and inspection are also available.

A3 virtual machines are the latest invention.
Google Tailwind – Google I/O 2023: 
It is Like a virtual note on Google where we can save all our readings, Google Docs, important documents, files, etc., and implement Artificial Intelligence to sort any data from the data in available documents in the Google Tailwind.
It helps full to the students, the people who synthesize the information, and the writers who write articles.
Responsible AI – Google I/O 2023:
Google is trying to develop its products in a responsible approach with which the users can benefit more, and any user can get the same benefits. Google follows the below Principles to build their products and also implement them in already built products. They are:

Be socially responsible

Avoid creating or reinforcing unfair bias

Be built and tested for safety

Be Accountable to people

Incorporate Privacy Design Principles

Uphold High Standards of Scientific Excellence 

Be Made Available for uses that accord with these principles

Many people may have an issue of trust in the information on the internet. It is difficult to understand whether the data available is trustworthy or not.

To solve this problem, google is working on this area to provide trustworthy information to users.

For example, u may see an image of an astronaut standing on land, saying it's from the moon. With the help of AI, Google will allow you to find and display similar images and their information so that the user can find the truth.

Google will place a watermark on every AI-generated image so the user can identify it from the image information.

Google will launch a universal translator that can dub the voice of the video in any language to the language you desire. This service provides Guardrails that prevent the misuse of this service by providing access only to authorized partners.
Android – Ecosystem:
Google is trying to build its ecosystem, just like Apple. Hence it released an update on the Google I/O 2023 Conference meeting.
People use many connected devices like mobile, tablets, smartwatches, earpods, wireless earphones, etc. Google is developing or improving the features of Android that could create a most powerful ecosystem for the sake of the user.

This will make every device work better together. 

WhatsApp is going to be launched for smartwatches. This will provide you with a chance to use WhatsApp on your smartwatch.

With an improved ecosystem, users can do any activity with their smart devices, like connecting, sharing, transferring, etc., faster.

For example, if you misplace your earbuds, you can find them with the help of the latest tracking system, "Find My Device" of Google.

Google is introducing Tracker Tags that attach to anything and find lost or misplaced things with the help of the tracker on "Find My Device."

Google introduced the "Unknown Tracker Alert", with which your mobile phone will receive an alert message about the unknown tracker that tracks your devices illegally.
Android – Expression:
In the Google I/O 2023 event, Google launched a new photo editing tool, expression.
Google will make the conversation expressive, fun, and playful through smart devices.

They will bring a new feature for smartphones where we can customize the look of the clock or time on the wallpaper of our mobile.

Another feature is that you can create a wallpaper with the emojis you choose, and you can customize the style of how they look.

You can convert a normal photo into a cinematic 3D photo, set it as your wallpaper, and see the photo movement whenever you tilt your phone. This Update will be coming out by next month.
Pixel 7A – Google I/O 2023 Conference:
Pixel 7A mobile provides users with a truly personal AI with the help of the "Google tensor G2" chip specially created by combining the Tensor's on-device intelligence and the help of Google's AI in the cloud.

This phone will understand your needs and preferences and try to help you save time and get more work done in less time.

Pixel Assist: It helps the user with many unique features like Call Assist, with which you can avoid long holding calls, navigate phone tree menus, ignore the calls you don't want, and improve the sound quality of your call.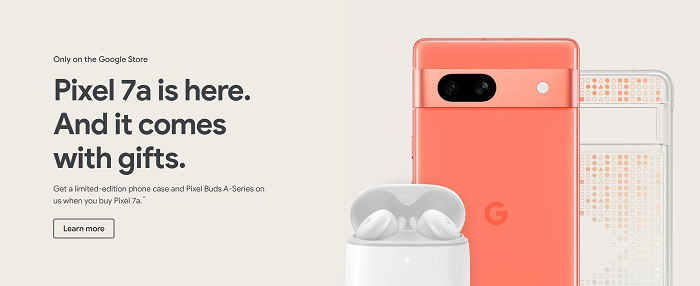 Pixel speech is another feature that helps convert text to speech. With this, you can convert your conversations into speech in real time. It also helps translate other languages into your desired language for you to understand.

Pixel Camera: It can recognize the faces, expressions, skin tones, and the people you care about. This will make the photos you capture on this mobile look amazing. Real tone and the Guided Frame are the latest features available with Pixel 7A.

In this mobile, Google came up with a combination of Tensor + Android + AI.

The new magic editor by Google for photos will be available on this phone.

Generative AI wallpaper is another new feature on the Pixel 7A. Workspace and Bard can be used on your mobile device.

The Google Pixel device is paired with a G2 chip and 8GB of Ram and has a Highest Rated camera under $500
Google Pixel Tablet: 
The Pixel Tablet is a tablet designed by Google, and it has the following features:

Tensor G2 with Titan M2

11inch display with 2560*1600 resolution

3 microphones which are far-field optimized

8GB/ 128 GB or 256 GB Memory Storage

Up to 12 hours of Video Streaming

Finger Print Sensor built into the power button

4-Speaker for Audio and Stereo sound

8-megapixel front and rear camera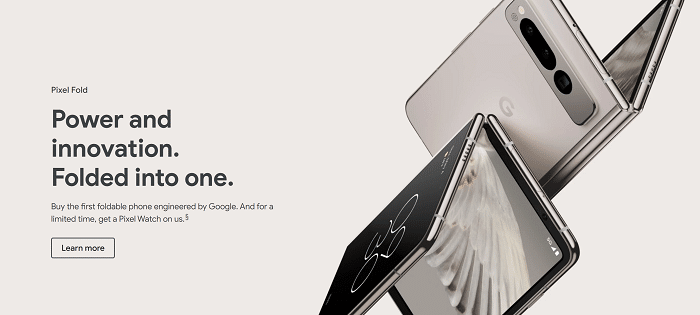 Google specially designed more than 50 mobile applications for the Google Pixel Tab that consists of them.

It has Built-in chrome cast option.

Magic Eraser and photo blur are the options on the Pixel Tablet to make your photos more beautiful.

It also provides assistant voice typing for more flexibility in typing any data.

Google engineered the first charging speaker dock, especially for the Pixel Tablet, to hold and charge the tablet without a cable.
This charging dock enables the tablet to function as a Digital Photo Frame, a Powerful smart home Controller, a voice-activated helper, and a shared entertainment device.

The Pixel Tablet Device is available from $500.
Pixel Fold – Google I/O 2023 Conference:
Google created the Pixel Fold device by combining Tensor G2, Android innovation, and Artificial Intelligence.

The device can be converted into a tablet when opened and has a front and wide display. This is the thinnest foldable phone.

It has 7.6 Inch Display with 180 fluid friction hinge.

It is Water resistant and has the best camera features among all the foldable phones. It can be used even in the tabletop mode.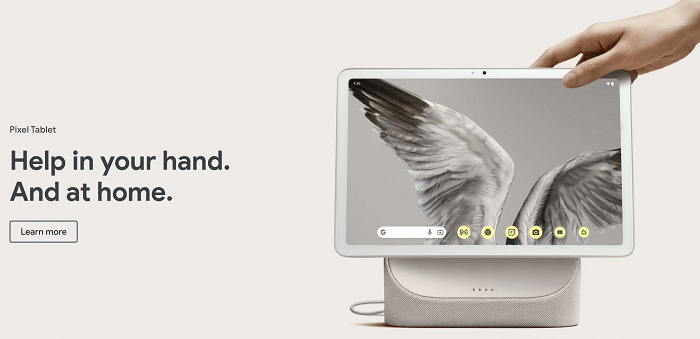 It provides Dual Screen Interpreter Mode, which helps you see the opposite speaker of different languages and the translated language on both sides of the Pixel Fold Mobile.

It Provides all the important features like safety, speech, and calls assistance for on-the-go, multitasking and entertainment.
The world has been through many changes over the years, and Artificial Intelligence will play a huge role in developing all aspects of human society. Artificial Intelligence can be divided into two categories, conversational and generative.
Conversational AI helps us carry out conversations with humans and other intelligent beings. Generative AI uses artificial neural networks to create images and text independently, which is what Google AI does. This helps us not only to understand the context of the text or image but also helps us improve and create it.