Japan Movie Review: In the realm of Tamil cinema, Karthi has established himself as a bankable star with an impressive filmography. His 25th film, "Japan," directed by Raju Murugan, has generated significant buzz and anticipation among fans and critics alike. With its unique premise of a daring heist and a morally ambiguous protagonist, the movie promises to be an exhilarating blend of action and comedy. In this comprehensive review, we will delve into the various aspects of "Japan" to determine whether it lives up to the high expectations set by its teasers and trailers.
Storyline And Characters – Japan Movie Review:
"Japan" follows the story of Japan Muni, a notorious master thief played by Karthi. The narrative revolves around a thrilling cat-and-mouse pursuit between Japan and the virtuous law enforcement after a massive jewelry store heist. As the plot unfolds, we are introduced to a diverse cast of characters, including Anu Emmanuel as the female lead, Jithan Ramesh, KS Ravikumar, Sunil, and Vijay Milton, each with their own stakes in the hunt for Japan. The movie explores the impact of these individuals on the life of a common man, adding layers of complexity and intrigue to the storyline.
Karthi's Performance – Japan Movie Review:
Karthi delivers an outstanding performance as Japan, bringing wit, charm, and a perpetually chill demeanor to the character. His portrayal of the morally ambiguous thief is refreshing, showcasing his versatility as an actor. Karthi's comedic timing and humorous dialogues elicit laughter even in serious situations, adding an extra layer of entertainment to the film. His commitment to the role and ability to sink his teeth into the character make Japan a slightly unpredictable and unreliable protagonist, keeping the audience engaged throughout.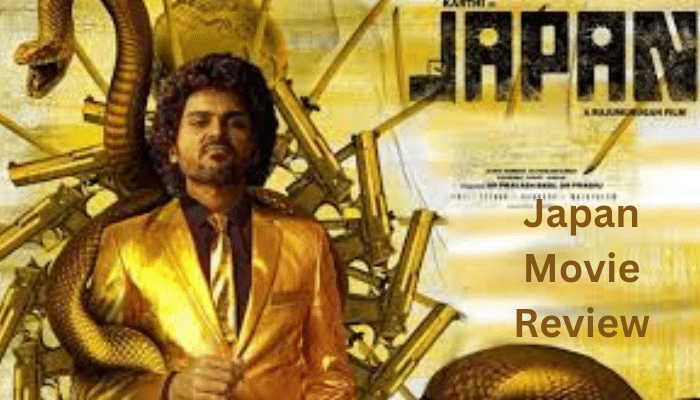 Director Raju Murugan's Approach – Japan Movie Review:
Director Raju Murugan, known for his socially conscious films like "Cuckoo" and "Joker," takes a different route with "Japan" by embracing a more commercial tone. While the change in approach is refreshing, it also poses a challenge for the director. The movie's success relies heavily on striking a balance between being a mass entertainer and a critique of the genre. Murugan's use of dialogues and a film-within-a-film adds self-awareness to the clichés present in the script. However, despite these efforts, the film falls short in creating a fully engaging cat-and-mouse game, leaving some emotional investment lacking.
Technical Aspects – Japan Movie Review:
The technical aspects of "Japan" contribute significantly to the overall viewing experience. The music composed by GV Prakash Kumar stands out as a positive aspect, with the background score enhancing the impact of key moments in the film. The cinematography by Ravi Varman is commendable, capturing the essence of the characters and adding visual appeal to the storytelling. However, the editing by Philomin Raj could have been more meticulous, as certain pacing issues and unnecessary scenes hinder the overall flow of the narrative.
Strengths And Weaknesses – Japan Movie Review:
"Japan" has several strengths that make it an enjoyable watch. Karthi's charismatic performance and witty dialogues provide moments of pure entertainment. The comedic timing of Vijay Milton adds to the overall humor of the film. The music by GV Prakash Kumar, though not exceptional, complements the second half of the movie and enhances its impact. The production values from Dream Warrior Productions are commendable, ensuring a visually appealing experience for the audience.
However, the movie also has its weaknesses. The story starts off well but quickly declines due to a lackluster plot and weak screenplay. The character of Anu Emmanuel fails to make a significant impact, with limited screen time that doesn't fully explore her capabilities as an actress. The action sequences, while present, could have been better composed to cater to a broader audience. Despite these shortcomings, "Japan" manages to provide moments of entertainment, albeit with room for improvement.
Audience Reactions – Japan Movie Review:
The release of "Japan" has garnered mixed reactions from the audience. Some viewers appreciate the establishment of Japan's character and the thrilling heist sequence in the first half. The comedic scenes and Karthi's performance continue to impress, keeping them engaged. However, others feel that the movie suffers from a weak screenplay and a decline in storytelling quality as the plot progresses. The lack of emotional investment and underutilization of certain characters are common criticisms. Overall, the film has received a rating of 2.5/5 from leading critics, indicating a somewhat underwhelming experience.
Frequently Asked Questions (FAQs) About Japan Movie Review:
What is "Japan" about?
"Japan" is an action comedy about a witty thief, Japan Muni, and his pursuit by law enforcement after a heist.
Who is the lead actor?
Karthi plays Japan Muni, the morally ambiguous master thief at the center of the film.
What makes Karthi's performance stand out?
Karthi impresses with charm, wit, and a chill demeanor, showcasing his versatility as an actor.
How does the director approach the film?
Director Raju Murugan blends a commercial tone with social critique, adding layers to the genre.
What are the technical highlights?
GV Prakash Kumar's music, Ravi Varman's cinematography, and Dream Warrior Productions' visuals enhance the overall experience.
What are the strengths of the movie?
Karthi's charismatic acting, witty dialogues, and entertaining comedic scenes contribute to the film's strengths. 
Are there any weaknesses?
The plot, character development, and certain technical aspects like editing face criticism for hindering the overall narrative flow.
How are audience reactions?
Audience opinions are mixed, with appreciation for Karthi's performance but criticism for weak screenplay and character underutilization.
What is the overall rating from critics?
Leading critics give "Japan" a rating of 2.5/5, indicating a somewhat underwhelming experience.
Should you watch "Japan"?
If you enjoy action-packed crime comedy dramas with moments of entertainment, "Japan" might be worth a watch. 
Conclusion – Japan Movie Review:
In conclusion, "Japan" offers a rollercoaster ride of action and comedy, buoyed by Karthi's charismatic performance and witty dialogues. While the movie has its strengths, including the music, cinematography, and production values, it falls short in terms of its plot and character development. Director Raju Murugan's attempt to balance commercial elements with social critique is commendable but not fully realized. Despite its flaws, "Japan" manages to provide moments of entertainment and showcases Karthi's versatility as an actor. If you're in the mood for an action-packed crime comedy drama, "Japan" might be worth a watch.