DigiLocker Login App: Indian citizens who possess an Aadhar card are able to sign up for an account on the DigiLocker website and take advantage of the cloud storage service. This platform enables account holders to access their important documents or certificates from any location at any given time.
Access is given for all the certificates and documents in digital format directly from the issuers who originally issued the certificates. Any citizen can create their account in the DigiLocker using their details and aadhar number. The Government's service can be trusted and used by any citizen to safely store all the important documents. It can be used whenever needed for any registration or application process.
DigiLocker Login To Access DigiLocker App:
To log in to the Digi locker website, you should have your username and password to log in to the website. Which means you must have created your account. If you already have an account, then the procedure to log in or sign in to your account on the DigiLocker website is as follows:
Initially, you must open the Digilocker website by typing the website address. That is

https://digilocker.gov.in

 

Then it will show you two options on the top right corner of the webpage. They are SIGN IN and SIGN UP. click on SIGN IN to log in to the website, and click on SIGN UP to create a new account.

Now click on SIGN IN. Then it will show two ways to log into your account, which is already created.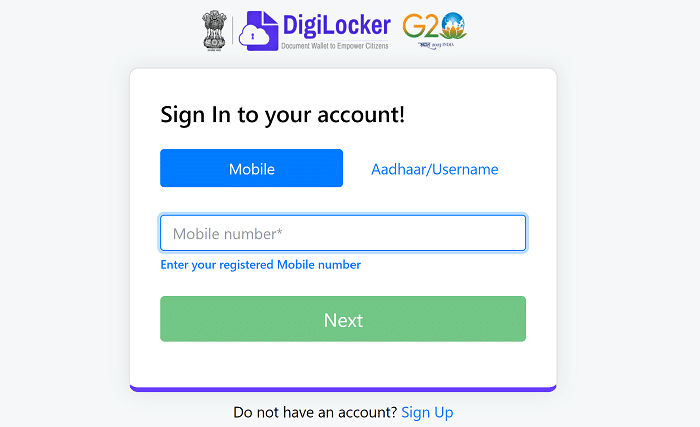 Sign In Using Mobile Number:
The first one is "Mobile". It is used to log in with the mobile number you have given during the account creation. When you click on "Mobile", it will ask you to enter the registered mobile number. Enter the mobile number and click on "Next". Then it will ask you to type the 6-digit security pin which has been created during the time of account creation. Type the security pin and press enter then you will be logged into your account on the website.
Sign In Using Aadhar/Username:
The second one is Aadhar/Username. It is used to log in with the user name you created during the account creation or your aadhar number.  Now type the user name, aadhar number, and 6-digit security pin and click "Sign In". Then you will be logged into your account in DigiLocker Login.
DigiLocker App Sign UP To Download DigiLocker CBSE Certificate:
Any Indian citizen who wants to have an account on the DigiLocker website must have to sign up for the account first. The signup procedure is as follows:
Open the website

https://accounts.digilocker.gov.in

A web page opens which asks for different types of details. It is headed with the statement, "Creating an Account is fast and easy".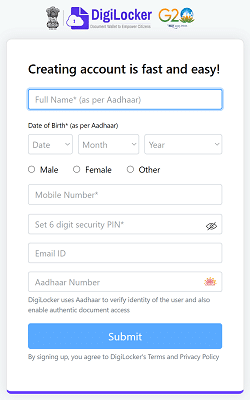 Then it asks to type the account holder's full name according to the aadhar card. The account holder must only give their full name on an aadhar card.

Then give your birth date, which is on your aadhar card. Here the system gives choices to select the date of birth, which will drop down the dates, months, and years when clicked on them while selecting.

Then select your gender.

Then give your mobile number, which is in working condition. This mobile is used to send any notifications from the DigiLocker Website.

Then you have to set a 6-digit pin for security purposes. It is further used as a Login Password.

Then give your Email ID for further communication from DigiLocker.

Then it asks for your Aadhar card number. Type it correctly.

Then finally, check if all the details are correct or not to avoid mistakes and then click on the "submit" button.

Immediately after clicking "submit," you will receive an OTP to the mobile number above.

Then it asks you to set up the username. Give a username that is easy to remember for you.

With this, an account will be created for you in the DigiLocker.
Digi Locker App: Documents You Can Save
In Digi locker, documents can be saved in digital format. You can save scanned copies of the important documents and certificates. Different government agencies issue digital documents; scanned documents are called uploaded documents. Some of such documents that can be saved in the digital locker are below:
Driving Licence

Vehicle Registration Certificates

Aadhar Card

PAN Card

DigiL0cker CBSE Certificate
Uses for Digi Locker App Login:
All the important documents and certificates can be stored in a digilocker.

Any document or certificate stored in the digital locker can be used anywhere and anytime when you want them.

All the authentic documents can be downloaded and available in the government institutes' lockers.

Services can be delivered very fast when you have a digital locker.

When your documents need to be verified during any government registration procedure, then the documents can be verified directly from the digital locker.

It can be used as a secure way to share documents or certificates.
DigiLocker Login is a website providing digital lockers to save important documents and certificates. It is an online service provided by the Indian Government. It is managed and maintained by the Ministry of Electronics and Information Technology. The digital locker service is initiated under the Digital India campaign. The DigiLocker website provides 1GB of data space to upload and save scanned copies of important documents and certificates and save them.