The Tamilnadu Government has introduced a website, i.e., EMIS.TNSchools.Gov.In Login portal, to manage students' data from the school. EMIS's full form is 'Educational Management Information System". EMIS TN Schools is an online platform implemented by the Government of Tamil Nadu to streamline and manage educational data across schools in the State. Through the EMIS TN Schools portal, the teachers can update their student's details. Also, using this portal, Students can access educational content like interactive videos, online course information, multiple forms of practice and simulation resources, and types of mock tests.
The state government of Tamil Nadu requires every school to register with the EMIS portal. The state government assigns a unique ID to each school, and teachers can access the portal using that ID. This portal is capable of maintaining various information such as student information, teacher information, infrastructure management, enrollment and admission reports, attendance tracking, and more.
On this EMIS website, government, government-aided, and private schools must update their school profile, student details, and teaching and non-teaching staff profile details.
This article will discuss the EMIS TN School login process, the objective of the EMIS portal, and other information.
EMIS TNSchools.Gov.In Login Portal Overview:
Name of the Portal

EMIS TN Schools Portal

Introduced By

Government of Tamil Nadu

Concerned Authority Name

Tamil Nadu Educational Management Information System

Main Objective

To facilitate the efficient management, monitoring, and analysis of educational data in schools across the state.

Beneficiaries

Tamil Nadu Students and Teachers.

Official Website

https://emis.tnschools.gov.in/

 

Email Id

enquire.tnemis@gmail.com

 
How To Access EMIS.TNSchools.Gov.In Login Portal?
Visit the official website of EMIS TN Schools at

https://emis.tnschools.gov.in

.

 The login page will appear on your screen; here, you have to enter your "User Name" and "Password" and then click on the "Login" button.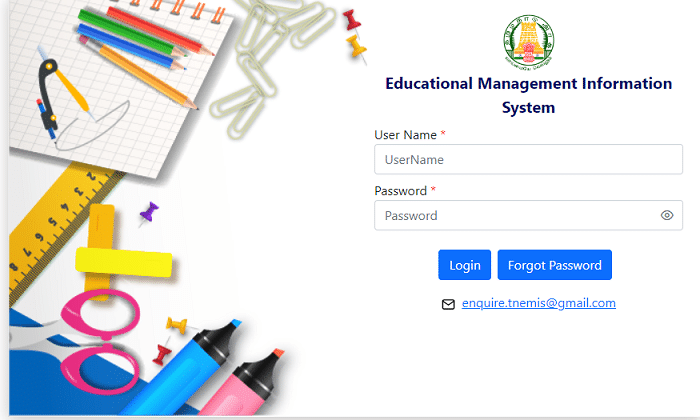 Then you will log into the portal successfully.
EMIS TNSchool Portal Password Reset Process:
Open the official website of EMIS TN Schools at

https://emis.tnschools.gov.in

.

Now, click the "Forgot Password" option below the login field.

On the next page, you have to select your "User Typer" as either "School" or 'Teacher".

After selecting the user type, you must enter your "User Name" and click on the "Request OTP" button.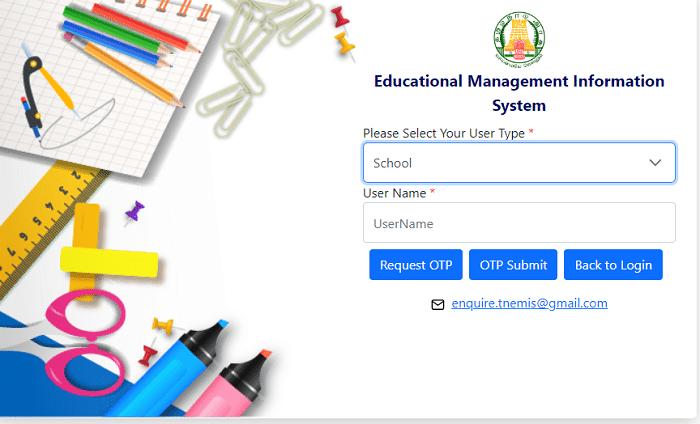 You will receive an OTP to your registered mobile number. Enter the same and then click on OTP Submit button.

Now, you can be able to reset your password, or you can get your password to your registered email Id.
EMIS TNSchools Registration Process:
Each school in the Tamil Nadu state must be registered under the EMIS TN Schools Portal. After registration, every school will receive a special identification number (Unique ID), and teachers can access the EMIS portal using the unique ID. Your username and password will be generated once you have logged into the portal. The list of authorized administrators for accessing the TNTP website is shown below.
Head Master/Principal of the School:

The headmaster/principal is responsible for the school's facilities and grounds and keeping track of teacher and student performance, including attendance.
Chief Education Officer (CEO):

After the inspections, it is the CEO's responsibility to manage all of the schools in the district.
Block Education Officer (BEO):

The BEO has been given the duty of overseeing all of the schools of the block after the inspection.
DEO (District Education Officer):

The District Education Officer (DEO) must adhere to the district's inspection protocols for all schools and carry out the same duties as the CEO and BEO.
The concerned school's Head Master (HM) can give the teachers their login credentials.
Key Facts – EMIS TNSchool Portal:
EMIS portal helps schools collect, store, and manage various data types, including student information, attendance records, academic performance, teacher profiles, and infrastructure details.

This portal automates administrative tasks like student enrollment, fee management, timetable scheduling, and report generation.

This streamlines administrative processes reduces manual work, and saves time for teachers and administrators.

It provides valuable insights and data analysis capabilities that assist school administrators in making informed decisions.

It enables the identification of trends, student performance patterns, and resource allocation strategies to enhance teaching and learning outcomes.

For parents and teachers to access pertinent data, including attendance records, grades, assignments, and communication channels, EMIS frequently includes a portal or interface.

This facilitates the collaboration and interaction between parents, teachers, and the school.

It generates comprehensive reports and analytics, allowing schools and educational authorities to monitor performance indicators, identify areas for improvement, and meet regulatory reporting requirements.

To provide educational content online like interactive videos, online course information, various forms of practice, simulation resources, and types of mock tests.

EMIS can Connect with other educational systems and technologies, such as the Learning Management System (LMS), to provide a comprehensive educational environment and ensure smooth data flow.
Objectives Of Educational Management Information System (EMIS):
To offer a primary, upper primary, secondary, and higher secondary education that is equitable, accessible, and high-quality.

To strive for the all-round development of the child. To evolve curriculum and evaluation procedures conforming to the values enshrined in the constitution.

To build the child's knowledge and potential talent and develop the child's physical and mental abilities to the fullest extent.

To provide the required infrastructure to ensure the comfort of every child in school. To provide a conducive learning environment through learning activities, discovery, and exploration in a child-friendly and child-centred manner.

Whenever possible, give the child a high-quality education in their language.

To give abundant opportunities for the child to express himself without any fear.

To reduce the stress and anxiety caused by final examinations by introducing continuous.

And comprehensive evaluation in phases, making exams more flexible and integrated into classroom life.
The main vision of the EMIS TS Schools portal is to provide a quality education that is burden-free through enjoyable learning to achieve universalization of education at the primary and secondary levels. And also to provide the most basic infrastructure possible, along with safety and security for the well-being of the kids. Overall, the EMIS TN Schools Portal is a computerized system designed to collect, store, manage, and analyze data related to educational institutions. It aims to provide accurate and up-to-date information to support decision-making and policy formulation in the education sector.