Zerodha Kite Login: Zerodha combines "Zero" and "Rodha", a Sanskrit word that means 'barrier'. Zerodha Kite is a web and mobile application that helps users open a Demat account, and it acts as a platform for investors to know the markets up and downs. It also helps the investors understand the current market status with more effective pictorial charts representing the companies' performance. It provides an elegant user interface to help the investors understand the activities well. This website or mobile application can be used on any of the Android phones and ios phones.
How To Sign-Up Zerodha Kite Login Account?
Open the website

https://zerodha.com

.

It will display the Zerodha website's main page. It will show a few options at the top of the webpage. There, Find 'Signup' and click on it.

It will ask you to start by entering your mobile number in the given space.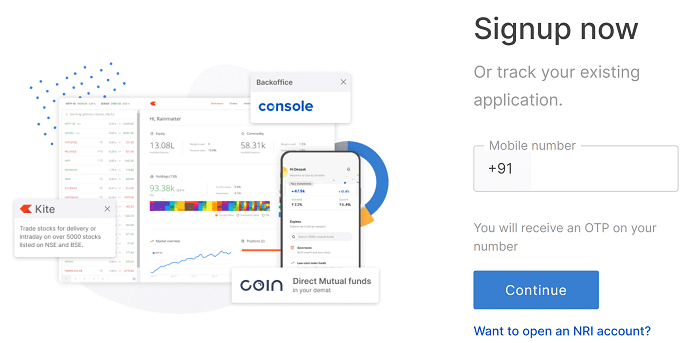 The system will send an OTP to your mobile number. Enter the OTP in the given Space and click on "Continue". This step will validate your mobile number and take you to the next step.

Here it will ask you to enter your Name and E-mail. Instead of entering the name and email, you can directly link your Gmail account, also specified on the webpage.

After entering the name and email, an OTP will be sent to your email. Enter the OTP in the given space and click on 'continue'.
Let's Start with Your PAN:
It will ask you to enter your PAN card number and Date of Birth.

On the top, it will specify that our name will be taken according to the PAN card. Enter the details and click 'continue'.
Pay Account Opening Fee:
It will ask you to Pay the Account Opening Fee. Here it will display the investment options. Select your choice. Then it will display the amount you will be charged at the bottom.

On the right side of the webpage, it will also display the payment methods like- UPI and Card or Netbanking or E-wallets.

Choose a method and click on Pay and Continue.
Your Profile:
Here, it will ask you to enter your basic details like Marital Status, Mother's name, annual income, occupation, trading experience, etc., fill them in and click on continue.
Link Bank Account:
It will ask you to enter the bank details like IFSC Code, Branch MICR Code, and Bank account number to link it to your account. Enter them and then read the declaration and hit accept. Then click on 'continue'.
Webcam Verification:
Here, it will ask you for webcam verification. Allow the website to use the camera of your PC. It will display a number on the screen. Write that number clearly on a white sheet, hold it correctly and stand before the camera. Then click on the "Capture" button.
Upload Documents:
Here, it will ask you to upload some documents like

Cancelled Check

Signature

PAN Card
It will also ask to upload income proof. But you need not upload an income proof if you buy and sell only Equity stocks.
Last Step:
Click on the E-Sign button. This will send you the credential of the Zerodha account to your E-mail. Then we will see an e-mail authentication screen. A code will be sent to our email id. We have to enter it in the given space.

Then click on 'Proceed to E-Sign'. Then it will display a form with declaration data. Read everything carefully, enter the Aadhaar card number, and click Send OTP. Enter the OTP received in the given space on the screen and click on verify OTP. Then it will display a document. Go through it and click on the sign now.

It will again ask you to enter your Aadhar card number. Enter it and click on Send OTP. An OTP will be received on the mobile number linked to your Aadhar number. Then enter the OTP received in the given space and click on Verify OTP.

Then it will show a green screen with the message Signed Successfully. Then you will be redirected back to Zerodha Screen again, and there, click on 'Finish'.
With this step, your account creation process will be completed.
Zerodha Kite Login Procedure:
Open the website of Zerodha Kite-

https://kite.zerodha.com

.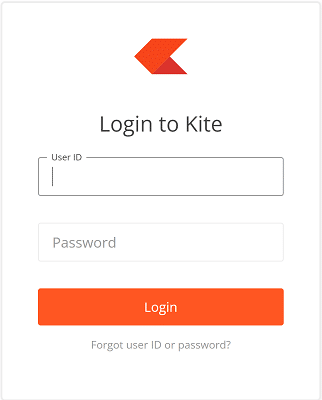 Now Enter your UserId and Password. Then click on the 'Login' button.

Then you will be taken to your profile of Zerodha Kite.

Then an App Code will be sent to your mobile number. It is an OTP used to log in to your profile on the website.
Zerodha Kite Brokerage Calculator:
The Brokerage calculator is a tool that helps traders and investors know how much to pay for a particular trade.
Zerodha Kite charges nothing for all the Equity Delivery Investments that may be NSE or BSE.

It also charges nothing for all Direct Mutual Fund Investments.

For Intraday trades across equity, currency, and Commodity trades, it charges 20 Rupees or 0.03% for every executed order.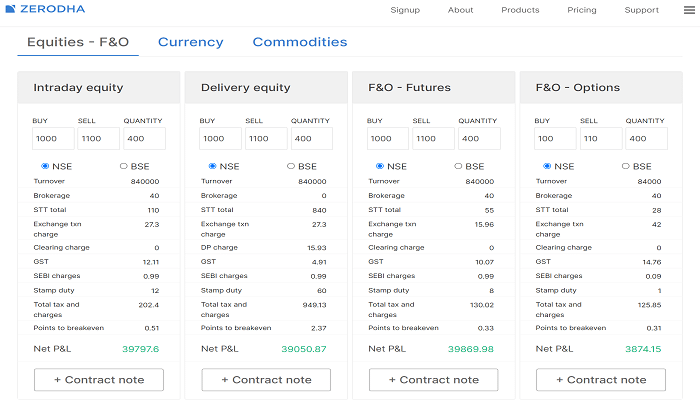 How To Use Zerodha Kite Mobile Application?
After the account opening process is completed, the Zerodha team will send a mail with Kite Login details, User Id and Password link within 24 to 48 hours. The same will be sent to you via India Post as a hard copy.

Now click on the password link sent in the mail and set the credential for your kite application.

Then download the Kite by Zerodha application from the Google Play store.

Log in to the Mobile application by entering newly created Credentials- User Id and Password.

Then enter your pin and create your Watchlists. Where the watchlist lists companies you want to track the shares, you can have 5 different watchlists.

Every watchlist can be added with similar types of companies. The watchlists can even be renamed with another name that users like to keep.

The application will display all the activities of the companies regarding the shares, like an increase or decrease in the share price.

This will help the investors decide about investing in that particular company.

Here you can buy and sell the shares of a company by watching each company's percentage changes.

It also displays the data in pictorial formats like charts. You can also choose the chart that you like to represent the data.
Zerodha Kite – https://kite.zerodha.com/:
Zerodha Kite started on the 15th of August in the year 2010. The main aim of this application is to become a perfect solution for all the problems traders and investors face. It helps the investors and traders regarding technology, support, and cost required for investing or trading. Zerodha Provides different types of courses to improve the knowledge of investors or traders.