Apply Income Certificate in Maharashtra: To make filing for certificates and other services very easy, the Maharashtra government has developed the Aaple Sarkar Portal through which the citizens can access, apply and register themselves online for their income certificate. AapleSarkar Registration website is aaplesarkar.mahaonline.gov.in.
An income certificate is an official statement provided by the state government to the citizen by the state government confirming his/her annual income.
 In Maharashtra, by using the website of aaplesarkar.mahaonline.gov.in, you can apply online for Income Certificate and check the status from the website. There is no need to visit the Registration office initially to apply and Search for an Income Certificate. The Income Certificate's status can be verified online by visiting the website.
Register into AapleSarkar Portal to Apply Income Certificate:
Income Certificate in Maharashtra from AapleSarkar website: To apply for the income certificate online, you need to register on the AapleSarkar website by following the below steps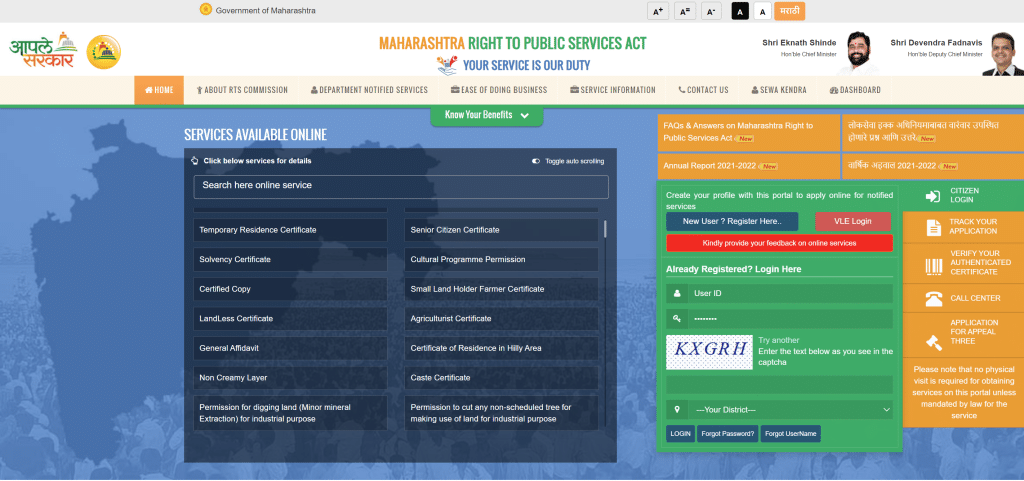 If you are a new user, go to the register and click on "Register".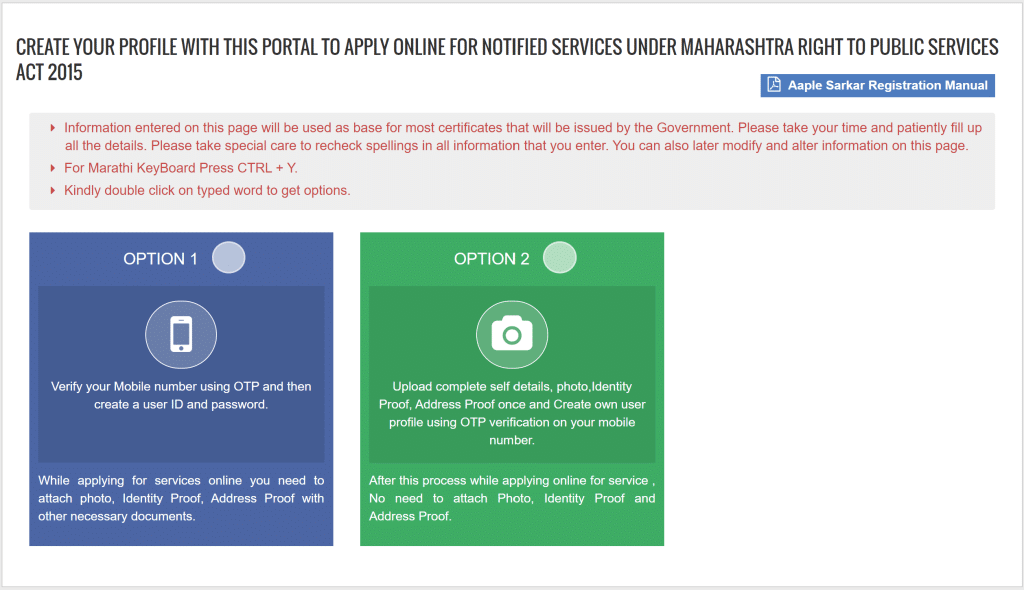 The next page will open options 1 and option 2.

Select option 1, fill in the required information, and create a user name and password i.e. User ID and Password, by verifying UID or Creating your user profile using OTP verification on your mobile.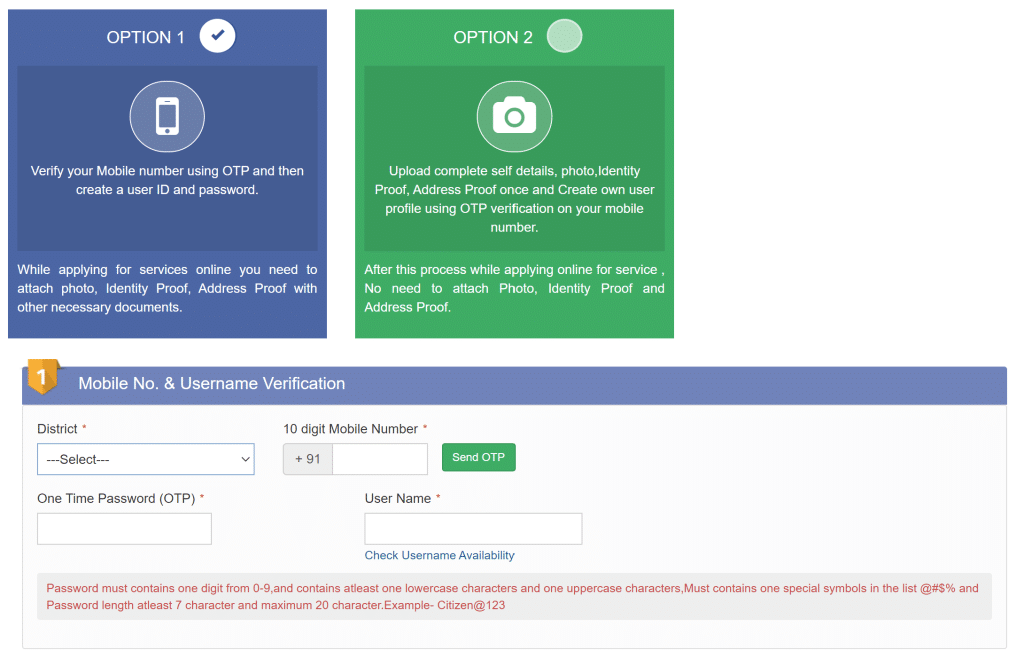 After the Verification of OTP on your mobile number, you will get an application form.

Fill in the Applicant's Details like First Name & Last Name

Fill in the Applicant's Address

Fill in the Mobile No. and complete Username verification

Upload Photograph

Upload Proof of Identity (Anyone)

Upload Proof of Address (Anyone)

Click on "Register" to complete the registration process.
Now your user information is entered with the website of aaplesarkar.mahaonline.gov.in. You can log on to the website and apply for the Income Certificate online.
How to Apply Income Certificate Online in Maharashtra?
To applying the Income Certificate online, you need to follow the below steps:
Log in to the

Aaple Sarkar website

Choose Revenue Department on the menu.

Click on Income Certificate and Apply

Fill in the required details.

Upload the required documents if required and submit the form.

You will receive an acknowledgment number to track your income certificate status.
Documents required to Apply for Income Certificate in Maharashtra:
Proof of Identity: Aadhaar Card / Voter ID Card issued by ECI with Maharashtra Address / PAN Card / Passport / RSBY Card / MNREGA Job Card / Driving License / Identity card issued by Maharashtra Govt Organizations

Proof of Address: Passport / Water Bill from Maharashtra / Ration Card / Aadhaar Card / Voter ID Card / Telephone Bill / Driving License / Electricity Bill / Property Tax Receipt

Getting Medical Facility requires a Health/Medical officer's certificate.

In the case of Minors, Age Proof: SFC Certificate/Birth Certificate/Bonafide Certificate/School Leaving Certificate/Extract from primary school entry

Proof of Income: Income tax statement letter/Circle Officer Verification report/Salaried Income can provide Form No: 16/Retirement/Salary holders Bank account details/If the applicant is the owner of the land, then 7/12 to yield 8-A Talathi report

Self Declaration
Income Certificate from AapleSarkar, Track Application Status:
Follow the steps below to track the Income Certificate status in Maharashtra.
Visit

Aaple Sarkar website

Enter your Login Name, Password, and Security Code

Click on "Track Your Application"

Enter Department Name as "Revenue Department"

Select Sub Department as "Revenue Services"

Click the Certificate as "Income Certificate"

Enter the Application ID to track the status of the Income Certificate.
Now your Transaction History will be displayed on the Screen. You can see the application status. If payment of the fee is pending, you can pay it online. And, if the certificate is ready to download, check it properly after downloading it. If your application got rejected, you can see those reasons and should rectify them before replying for Income Certificate.
Offline Method to Apply Income Certificate in Maharashtra:
Download the Income Certificate Application Form from

here

.

Take a Xerox or PhotoCopy and fill out the

Income Certificate Application Form

.

Submit the Application form and supporting documents at your nearest Tahsildar Office in Maharashtra.

You will get an acknowledgment ID for further enquires.

After thorough verification, you will get your Income Certificate if your application gets approved.

Once approved, you can collect your Income Certificate from the Tahsildar Officer or your nearest Maha E-Seva Kendra.
Maharashtra from AapleSarkar Website:
Apply Income Certificate, AapleSarkar: The Aaple Sarkar Portal has been designed by the chief minister of the Maharashtra state. There are a few simple steps to Trace, view, and download the Income certificate in Maharashtra through the website. Steps to download an Income certificate through the website of Maharashtra are explained here. You can even pay the power bill/ water bill in Mumbai/property tax from this online portal.
Aaple Sarkar Website – Key Benefits:
Quicker delivery of public services.

Avail doorstep services, which means no standing in queue for hours.

Easy access to information.

Easy and secure payment gateway to avail of online services.
FAQs related to Income Certificate in Maharashtra:
How long will it take to get an Income Certificate in Maharashtra from the AapleSarkar website?
In the online process, getting the income certificate after applying online will take 15 days.
How much is the Fee to Apply for an Income Certificate in Maharashtra?
You need to pay Rs. 33.60/- (Rs. 20 + Rs. 3.60 GST + Rs. 10 Stamp) for receiving Income Certificate in Maharashtra.
How many years of validity for an income certificate?
The validity for an income certificate is 5 years.
Which department issues Income certificates in Maharashtra?
 Nayab Tahasildar will provide the income certificate.