ER GDCE RRC Notification 2023: The Eastern Railway Recruitment Cell notification has been issued, (notification no. RRC/ER/GDCE/01/2023) inviting online applications from all regular Railway employees of Eastern Railway, Metro Railway, and Chittaranjan Locomotive Works (excluding RPF/RPSF personnel) for vacancies against General Departmental Competitive Examination (GDCE) quota as per instructions issued by the Railway Board. The notification for the GDCE general department competitive examination for the post of Asstt. LOCO PILOT, Technician, Junior Engineer, & Train Manager. It is important that applicants read all instructions of the notification before filling out the online application. The online applications must be submitted between July 25th and August 30th, 2023.
ER GDCE RRC Notification 2023 Overview:
Name of the Organization.

Railway Recruitment Board (RRB)

Name of the Post.

Asstt. Loco Pilot, Technician, Junior Engineer, & Train Manager

Total Vacancies.

Group I (E.Rly) – 477.

Group II (Metro) – 12.

(E.Rly) Group II – 117.

Group III (E.Rly) – 83

Total Vacancies – 689

Advt No.

RRC/ER/GDCE/01/2023.

ER GDCE RRC

Notification

2023

Release Date.

25th July 2023.

Mode of Application

Online

Online Applications Starting Date.

30th July 2023.

Online Application Last Date.

30th August 2023.

Application Fee.

Nill.

Selection Process.

Online Written Examination.

Aptitude Test.

Document Verification.

Medical Examination.

Official Website.

https://er.indianrailways.gov.in/
How To Apply For ER GDCE RRC Posts – Notification 2023?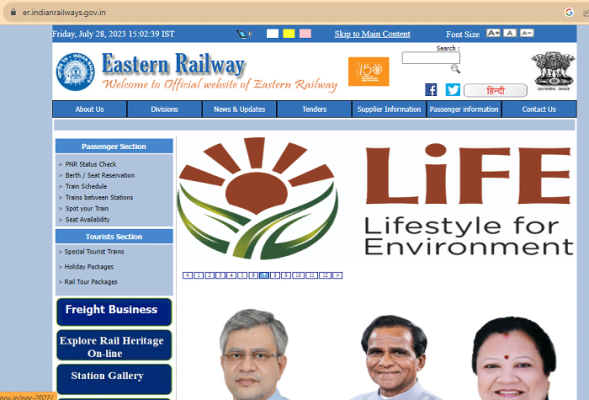 After that,  click on the "New Registration" link. 

Thereafter, fill in the basic information such as name, sex (Male/Female/Transgender), community, DOB, employee ID, HRMS ID, mobile number, and email address.

Upon completion, a registration number will be generated and sent to the registered mobile number and email address.

The candidate should save the registration number for any future reference or logging in. 

After that, the candidate dashboard will appear for the personal information to be filled in. 

This should be followed by filling in the employment and educational qualification details.

The necessary documents should be uploaded. 

In addition, preferences for three exam groups (ALP/Technician, JEs, Train Manager) and categories within each exam group should indicate. 

The stream for Part 2 of the CBT should also be selected (in the case of Exam Group 1 – ALP/Technicians, Exam Group 2 – JEs). 

Click "Save & Continue" to preview and submit the application. 

Once submitted, no changes can be made. The controlling officer (minimum grade of the officer should be Asst Scale) should print and sign the application form, forward it, send a hard copy, and upload a scanned version in the relevant tab of supporting documents.

You must complete this step before the application closing date, or else your application will reject.
ER GDCE RRC Notification 2023 Recruitment Process:
The recruitment process consists of a Computer Based Test (CBT) or written exam, followed by a Computer Based Aptitude Test (only for ALP), Document Verification, and Medical Examination. Applicants may opt to apply for multiple posts, provided they satisfy the necessary criteria. The selection process will be based on merit. Candidates who wish to avail the benefits of SC/ST reservation must submit a caste certificate from the relevant authority at the time of Document Verification. 
The same applies to those seeking OBC reservation, who must produce a caste certificate and Non-Creamy Layer certificate issued post-April 1, 2023 in the Central Government format. All eligible candidates will receive SMS and emails, and they are responsible for keeping their contact details active until the end of the selection process. They will notify the applicants of the date, time, and venue of the CBT/written examinations, as well as any skill tests, in due course, and we will not accept requests for postponement or change of center/venue.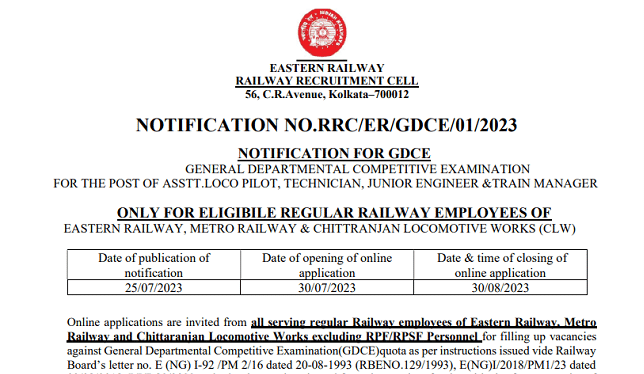 Eligibility Criteria – ER GDCE RRC Notification 2023:
Education Qualification:

To be considered eligible, applicants must meet the minimum educational qualifications for the post. 

The position of Assistant Loco Pilot requires a 10th-grade education plus ITI or Diploma.

To be a Technician, a 10th-grade education alongside ITI in a pertinent discipline or a B.Sc. is necessary. 

To be a Junior Engineer, a Diploma in Engineering or a combination of any sub stream in a related discipline is essential.

For Train Manager, a graduation degree is necessary

Age Limit:

The maximum age for UR candidates is 42 years. And also OBC is 45 years, and SC/ST 47 years as of 01/01/2024.

Work Experience:

Candidates must be regular employees of the Indian Railways and have the required work experience as specified by their respective zones. Generally, employees should have a minimum number of years of service in the railways to be eligible for GDCE.

Medical Fitness:

Candidates must meet the medical standards prescribed by the Indian Railways for the respective job categories.

Citizenship:

Candidates should be Indian citizens.
Necessary Documents To Apply For ER GDCE RRC Notification 2023:
Employee ID Card: As GDCE is for existing railway employees seeking promotions, you will need to provide your valid employee identification card issued by the Indian Railways.
Educational Qualification Certificates:

You will need to submit educational certificates and mark sheets that prove your eligibility for the specific GDCE post you are applying for. This may include certificates for 10th standard, 12th standard, graduation, or any other required qualifications.

Caste Certificate (if applicable):

If you belong to a reserved category (SC/ST/OBC), you may need to provide a valid caste certificate issued by the appropriate authority.

Disability Certificate (if applicable):

  Candidates with disabilities applying under the reserved category may require a disability certificate issued by a competent medical authority.

Work Experience Proof:

You may need to submit documents that verify your work experience as an existing railway employee, which is often a key eligibility criterion for GDCE.

Passport-sized Photograph:

  You may need to upload a recent passport-sized photograph as per the prescribed format and size mentioned in the notification.

Signature:

You may also need to upload a scanned copy of your signature as per the specified format. 

No Objection Certificate (NOC):

  Your current employer might require you to submit a NOC stating that they have no objection to your participation in the GDCE.

Identity Proof:

  Verification purposes may require valid identity proof like an Aadhar card, voter ID, or passport.

Address Proof: You may also require a valid address proof like an Aadhar card, voter ID, or utility bill.
Conclusion:
ER GDCE RRC notification 2023 contains mandatory information like eligibility criteria, the application process, and other relevant information. The Eastern Railway conducts ER GDCE RRC as a recruitment process for eligible candidates who are existing railway employees and wish to apply for promotional opportunities within the Eastern Railway zone. RRB GDCE (General Departmental Competitive Examination) ER allows eligible employees to compete for higher positions or categories within the Eastern Railway, and it provides them with opportunities for career advancement.