Karnataka PGCET 2023 Exam Date And Admit Card: Karnataka PGCET 2023 Admit card is released and the Exam is on September 24, 2023. The Karnataka PGCET (Postgraduate Common Entrance Test) is conducted by the Karnataka Examination Authority (KEA) for admission to various postgraduate courses such as MBA, MCA, ME, MTech, and more. It is a state-level examination that attracts thousands of applicants every year.
The Karnataka PGCET 2023 Exam is conducted by the KEA. Mark your calendars for September 24th, as it's the big day when you'll put your knowledge to the test. You need to download your Karnataka PGCET 2023 Admit Card to attend the Exam. It's your golden ticket to enter the examination hall. Without it, you won't be able to sit for the exam.
How To Download Karnataka PGCET 2023 Admit Card?
The Karnataka PGCET 2023 Admit Card is a vital document that you must carry to the examination center. Here's a step-by-step guide on how to download your admit card: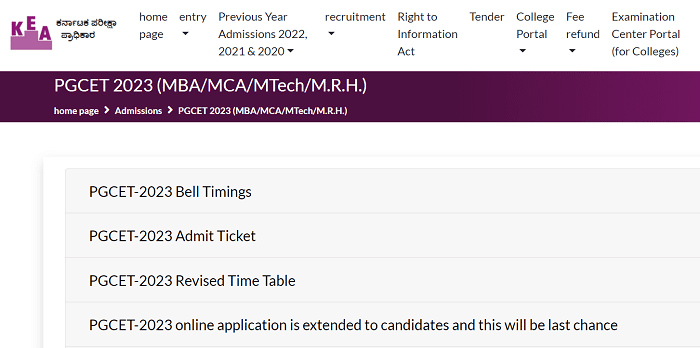 Click on that link to start the download procedure of the admit card.

Enter your login credentials, such as application number and password, to access your account.

Locate the admit card download option and click on it.

Your Karnataka PGCET 2023 Admit Card will be displayed on the screen.

Verify all the details mentioned on the admit card, including your name, photograph, signature, exam center, and timing.

Download the admit card and take a printout for future reference.
It is essential to cross-check all the details on your admit card to avoid any discrepancies on the exam day. If you find any errors or discrepancies, contact the KEA immediately for rectification.
Important Dates For PGCET 2023:
The first step to success in any examination is to stay informed about the important dates. Here are the key dates you need to remember for Karnataka PGCET 2023:
Admit Card Release Date: The Karnataka PGCET 2023 Admit Card will be available for download from September 13th. Keep your login credentials handy to access and download your admit card without any hassle.

Exam Date: The PGCET 2023 will be conducted on the 23rd and 24th of September. It's the day when your hard work and preparation will be put to the ultimate test.
Remember to mark these dates on your calendar and set reminders to ensure you stay on track with your preparation. Time management is crucial for success in any examination, so plan your study schedule accordingly.
Documents Required For PGCET Exam:
On the day of the Karnataka PGCET 2023 exam, you must carry certain documents to the examination center for verification purposes. Here's a list of documents you need to bring:
Karnataka PGCET 2023 Admit Card: The admit card is the most crucial document that you must carry. Make sure to download it from the official website and take a printout.

Valid Photo ID Proof: Carry a valid government-issued photo ID proof, such as Aadhar card, PAN card, or driver's license. The name and details on the ID proof should match the information provided during the application process.

Passport-size Photograph: Carry a recent passport-size photograph that matches the one uploaded during the application process. It will be affixed on the attendance sheet and the admit card.
Ensure that you keep these documents ready in advance to avoid any last-minute rush or panic. Without these documents, you may not be allowed to enter the examination hall or sit for the Karnataka PGCET 2023 exam.
Exam Pattern And Syllabus For Karnataka PGCET:
To crack the Karnataka PGCET 2023 exam, it is crucial to understand the exam pattern and syllabus. Here's what you need to know:
Exam Pattern: The Karnataka PGCET 2023 exam will be a offline mode exam (pen and paper-based). The duration of the exam will be 2 hours. The question paper will consist of multiple-choice questions (MCQs) with a total of a hundred questions. Each correct answer carries one mark, and there is no negative marking for incorrect answers.

Syllabus: The syllabus for Karnataka PGCET 2023 varies based on the course you are applying for. It covers subjects such as Mathematics, Physics, Chemistry, General Knowledge, English, and more. Refer to the official Karnataka PGCET 2023 information brochure or the KEA website for the detailed syllabus.
Understanding the exam pattern and syllabus will help you strategize your preparation effectively. Allocate time for each subject, focus on weak areas, and practice the previous year's question papers to get a clear idea of the exam pattern.
Tips For Preparing For Karnataka PGCET:
Preparing for Karnataka PGCET 2023 requires dedication, hard work, and a systematic approach. Here are some tips to help you excel in your preparation:
Understand the Exam: Gain a thorough understanding of the Karnataka PGCET 2023 exam pattern, syllabus, and marking scheme. This knowledge will guide your preparation and help you focus on the most important topics.

Create a Study Plan: Develop a well-structured study plan that covers all the subjects and topics in the syllabus. Allocate dedicated time for each subject and revise regularly to strengthen your knowledge.

Practice Previous Year Question Papers: Solve previous year question papers and mock tests to understand the exam pattern and build your confidence. Analyze your performance and identify areas where you need improvement.

Seek Guidance: If you face difficulties in understanding certain topics, seek guidance from subject experts or join coaching classes. Clear your doubts and strengthen your foundation to excel in the exam.

Stay Updated: Stay updated with the latest news and updates regarding PGCET 2023. Follow official websites, social media channels, and reliable sources to receive accurate information.
Remember, consistent effort and perseverance are the keys to success. Stay focused, maintain a positive mindset, and give your best in every study session.
Important Instructions For Karnataka PGCET Exam Day:
On the day of the Karnataka PGCET 2023 exam, it is crucial to follow certain instructions to ensure a smooth and hassle-free experience. Here are some important instructions to keep in mind:
Reach the Exam Center Early: Plan your travel and reach the exam center well in advance. It will give you ample time to find your seating arrangement, complete the verification process, and relax before the exam.

Carry the Required Documents: Ensure that you have your PGCET 2023 Admit Card, valid photo ID proof, and a passport-size photograph.

Don't Carry Prohibited Items: Avoid carrying any prohibited items such as electronic gadgets, calculators, study materials, or any other items not mentioned in the instructions. Violation of these rules may lead to disqualification.

Follow Exam Center Rules: Follow the instructions given by the invigilators and abide by the rules of the exam center. Maintain discipline, avoid any kind of malpractice, and focus on your exam.

Manage Time Wisely: Use your time wisely during the exam. Read the questions carefully, manage your time for each section, and attempt the questions you are confident about first.
Remember to stay calm and composed during the exam. Trust your preparation, avoid unnecessary stress, and give your best effort.
Conclusion:
With the Karnataka PGCET 2023 Exam Date and Admit Card just around the corner, it's time to gear up for your postgraduate journey. Stay updated with the important dates, download your admit card, and prepare diligently using the tips and resources provided. Remember, success in the Karnataka PGCET 2023 exam requires a combination of hard work, dedication, and smart preparation.