Oppo Reno 11 Pro Price: In the ever-evolving world of smartphones, Oppo has been a prominent player, consistently pushing the boundaries of innovation. The latest addition to their lineup is the Oppo Reno 11 Pro, which is set to make its debut in the market. With its impressive features and sleek design, this device is sure to captivate smartphone enthusiasts. In this article, we will delve into the details of the Oppo Reno 11 Pro, including its price, specifications, and additional information.
Oppo Reno 11 Pro Price Introduction:
The Oppo Reno 11 Pro is the latest flagship offering from Oppo, poised to set new standards in terms of performance and design. With its cutting-edge technology and sleek aesthetics, this device is expected to make waves in the smartphone market. Oppo has always been known for its attention to detail and commitment to delivering top-notch devices, and the Reno 11 Pro is no exception.
Oppo Reno 11 Pro Price:
One of the most anticipated aspects of any smartphone launch is the price. The Oppo Reno 11 Pro is listed on the China Telecom website with model number PJJ110. According to the listing, the Oppo Reno 11 Pro will be available in two storage variants: 12GB RAM + 256GB and 12GB RAM + 512GB. The expected prices for these variants are CNY 3,999 (approximately Rs. 46,500) and CNY 4,199 (approximately Rs. 48,700) respectively. These prices position the Oppo Reno 11 Pro as a premium device, catering to users who demand top-tier specifications and features.
Specifications Of Oppo Reno 11 Pro:
The Oppo Reno 11 Pro boasts a range of impressive specifications that are sure to entice smartphone enthusiasts. Let's take a closer look at what this device has to offer.
Design:
The Oppo Reno 11 Pro features a sleek and sophisticated design that is sure to turn heads. The device sports a center-positioned punch-hole cutout, which houses the front camera, and dual-curved edges that add to its overall appeal. With minimal bezels on all corners, users can enjoy an immersive viewing experience. The volume rocker and power buttons are conveniently placed on the right edge, ensuring ease of use. The device comes in three captivating colors: Obsidian Black, Moonstone, and Turquoise Green.
Display:
The Oppo Reno 11 Pro boasts a stunning 6.74-inch OLED display with a resolution of 2,772 x 1,240 pixels. With a 120Hz refresh rate and support for 1.5K resolution, users can expect vibrant colors and sharp visuals. The display also features 2,160Hz PWM dimming support, ensuring a smooth and flicker-free experience.
Performance:
Under the hood, the Oppo Reno 11 Pro is powered by the Qualcomm Snapdragon 8+ Gen 1 SoC, coupled with the Adreno 730 GPU. This powerful combination ensures lag-free performance and seamless multitasking. Whether you're gaming, streaming content, or running resource-intensive applications, the Oppo Reno 11 Pro is up to the task. 
Camera:
The camera capabilities of the Oppo Reno 11 Pro are nothing short of impressive. The device features a triple rear camera setup, comprising a 50-megapixel primary sensor, an 8-megapixel ultrawide lens, and a 32-megapixel telephoto sensor. These high-resolution sensors, coupled with advanced image processing algorithms, allow users to capture stunning photos with exceptional detail and clarity. On the front, the device houses a 32-megapixel selfie camera, ensuring that your self-portraits are always on point.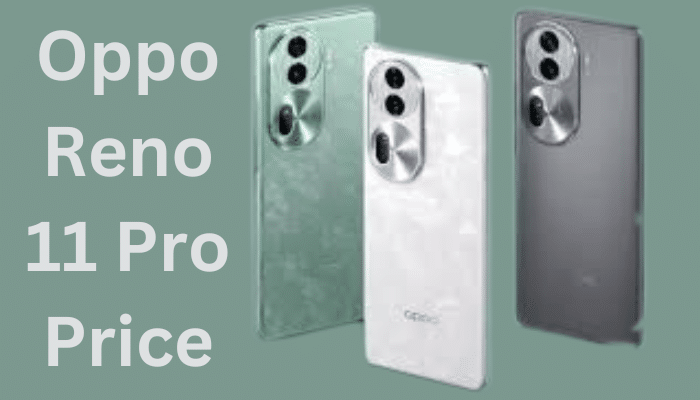 Battery:
To keep up with the demands of modern smartphone usage, the Oppo Reno 11 Pro is equipped with a 4,700mAh battery. This ample battery capacity ensures that you can go through your day without worrying about running out of power. Additionally, the device supports 80W fast charging, allowing you to quickly recharge your device and get back to using it in no time.
Software:
The Oppo Reno 11 Pro runs on the latest version of Oppo's ColorOS, based on Android 14. This user-friendly operating system offers a range of features and customization options, allowing users to tailor their devices to their preferences. With its intuitive interface and smooth performance, ColorOS enhances the overall user experience.
Additional Features:
The Oppo Reno 11 Pro offers a range of additional features that further elevate its appeal. These include an in-display fingerprint sensor for secure and convenient unlocking, support for 5G connectivity for lightning-fast internet speeds, and a robust build quality that ensures durability.
Frequently Asked Questions (FAQs) About Oppo Reno 11 Pro Price:
What are the storage options for Oppo Reno 11 Pro, and how much do they cost?
Oppo Reno 11 Pro comes in 256GB and 512GB variants, priced at approximately Rs. 46,500 and Rs. 48,700 respectively.
What makes the Oppo Reno 11 Pro's design stand out?
The phone has a sleek design with a center punch-hole camera, dual-curved edges, and convenient button placement in three attractive colors.
Tell me about the Oppo Reno 11 Pro display features.
It flaunts a 6.74-inch OLED display with a 120Hz refresh rate, 1.5K resolution, and 2,160Hz PWM dimming for vibrant visuals.
What powers the Oppo Reno 11 Pro for smooth performance?
Powered by Qualcomm Snapdragon 8+ Gen 1 SoC and Adreno 730 GPU, it ensures lag-free multitasking, gaming, and streaming.
How impressive are the Oppo Reno 11 Pro cameras?
The device boasts a 50MP primary, 8MP ultrawide, and 32MP telephoto rear cameras, ensuring stunning photo quality, with a 32MP front camera for selfies. 
What's the battery capacity and charging speed of the Oppo Reno 11 Pro?
It features a 4,700mAh battery and supports 80W fast charging, offering ample power and quick recharging for uninterrupted usage.
What operating system does Oppo Reno 11 Pro use?
The latest ColorOS on Android 14 offers a user-friendly interface, ensuring a smooth experience with customization options.
What are the standout additional features of Oppo Reno 11 Pro?
The device includes an in-display fingerprint sensor, 5G connectivity support for fast internet, and a durable build for added reliability.
Conclusion – Oppo Reno 11 Pro Price: 
The Oppo Reno 11 Pro is a flagship device that combines powerful performance, stunning design, and an array of impressive features. Targeting users who demand the best, Oppo aims to deliver top-tier specifications and premium build quality with the Reno 11 Pro. While the exact availability in global markets is pending, the anticipated price and specifications make it enticing for smartphone enthusiasts. Stay tuned for further updates on the Oppo Reno 11 Pro as its launch date approaches.